Uruguay no longer a magnet for Argentine funds looking for real estate investments
Monday, September 2nd 2013 - 20:02 UTC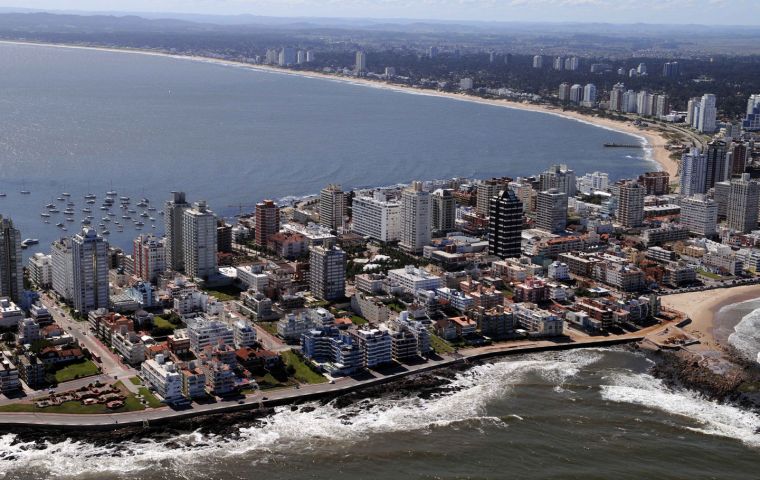 Uruguay has ceased to be the magnet for Argentine funds looking for safe places to save and real estate investments since the Argentine revenue service AFIP, following on the neighbouring countries tax-data exchange agreement, could have access to that information, according to Uruguayan private financial and investment advisors.
Dollars fleeing from Argentina usually make it to Uruguay and from there to safer havens in the rest of the world, but the issue is downplayed in Montevideo and Punta del Este since there are fears of the negative impact for real estate property prices following years of sustained growth.
However prices have remained, but business is slower and buyers feel they now have more bargaining power and want better conditions to reach a deal.
Recently real estate operators demanded from the government of President Jose Mujica to adopt measures to compensate what was described as "Miami advantages over Punta del Este" thinking in the Argentine investors.
"We need to change the rules and favour those investors as it has happened in Miami" said Alberto Prandi, a former Deputy Tourism minister and currently a member of the Real Estate Association of Punta del Este, Adipe.
Prandi admitted that the tax info exchange agreement with Argentina has had an impact on the real estate market in the Atlantic Uruguayan international sea-resort.
Economist Juan Carlos Protasi and former Central bank president said that property prices in Uruguay have lost competitiveness vis-à-vis the US and Europe and this makes the return of investors "more difficult".
"Argentine investments, particularly from the big groups are down to a minimum and operations have moved to Montevideo but to the small flats market", said Protasi.
Maldonado authorities have admitted that the rhythm of construction is less than the boom 2012 year, but permits for new buildings continue.
In the banking sector Argentine deposits increased modestly from March to June but in July have started to drop.
"We're helping the Argentines get their dollars out but they are no longer staying here, they move on" said a source from the financial sector.
"Some are satisfied with keeping the capital and don't care much about the rate but insist in security, confidentiality and as far away from the Argentine government as possible; others are looking for attractive profits and head for the US real estate market".
"The real estate market in Punta del Este has not frozen but it is very slow and needs that the public and private sectors sit round a table and agree on the best strategy", said the Tourism department from the Maldonado's mayor office.
Marinao Sardans CEO of a company that manages investment funds and works with Argentine clients in Uruguay says that many of them are opting to invest in US property for rent. "Punta del Este no longer rewards, as it did not so long ago" said Sardans.
However those Argentines who have property in Punta del Este remain faithful to their bricks since Uruguay continues to offer "a quiet easy going safe place have no interest in moving out" said Prandi, who added that the recent capital laundering benefits offered by the government of President Cristina Fernandez have virtually had no echo among Argentine home owners and investors in Uruguay.