Latam/China trade highly vulnerable: raw materials for manufactured goods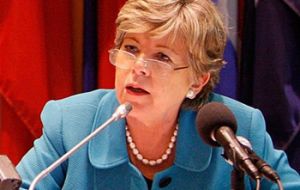 Over the past decade China has become a key partner for Latin America and the Caribbean with bilateral trade increasing 22 fold between 2000 and 2012, albeit with a strong deficit for Latin American countries, according to Alicia Bárcena, Executive Secretary of the UN Economic Commission for Latin America and the Caribbean.
During the seminar "Doing business with China: the Latin American experience" Barcena said that "it was important to open a debate on how to improve the quality of relations between Latin America and China" and pointed out that the Asian giant has become globally the largest exporter of goods (11.2%); second manufacturing producer (19.8%); number two recipient of FDI (9%) and the third largest foreign investor (6%).
Ms. Bárcena pointed out that Latin America and the Caribbean have significant assets for its trade relations with China, such as improved macroeconomic indicators, reductions in poverty and unemployment, a growing middle class and its endowment in natural resources.
However, there is significant asymmetry between the region's trade and investment flows with China since "in 2011 Latin America and the Caribbean's share of world trade remained below level achieved by Asia in 1985".
Such asymmetries can also be seen in the investment rate in Latin America and the Caribbean (22.9% of GDP), compared to over 40% of GDP in developing Asian countries. In addition, 2011 saw developing Asia export 3.3 times as many medium and high-technology goods as South America.
In terms of investment, Latin American and Caribbean exports to China are dominated by raw materials, while China's imports to the region are mainly manufactures (especially high-technology products).
For Latin American and Caribbean countries, China's economic growth, urbanization and burgeoning middle class in the next few decades may trigger high demand for fuel, minerals and foodstuffs. This represents an opportunity to incorporate value and technology into natural resources.
According to Ms. Bárcena, despite the limitations, Latin American trade with China has been positive for the region, as it has boosted exports and growth, reduced exposure to less dynamic industrialized markets, pushed up commodity prices and increased the availability of low-cost Chinese manufactures.
However, there have been costs: the region has become increasingly dependent on the exports of commodities, and achieving structural change in which investment and productivity are increased using more technological innovation and productive chains remains the main challenge.
Against this backdrop, she said that China was implementing structural change from an investment-intensive economy to one based on consumption and internal demand.