Microsoft buys Nokia mobile phone business to focus on "devices and services"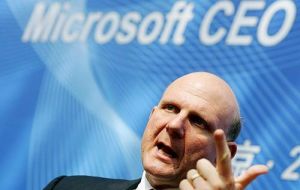 Microsoft has agreed a deal to buy Nokia's mobile phone business for 5.4bn Euros. Nokia will also license its patents and mapping services to Microsoft. Nokia shares jumped 35% on the news, whereas Microsoft's fell more than 5%. The purchase is set to be completed in early 2014, when about 32.000 Nokia employees will transfer to Microsoft.
Nokia has fallen behind rivals Samsung and Apple, while critics say Microsoft has been slow into the mobile market.
Describing the deal as a "big, bold step forward", Microsoft chief executive Steve Ballmer told the BBC that his company was in the process of transforming itself from one that "was known for software and PCs, to a company that focuses on devices and services".
"We've done a lot of great work in the two-and-a-half years that we've been in partnership with Nokia, going literally from no phones to 7.4 million smart Windows phones in the last quarter that was reported," he said.
But he admitted: "We have more work to do to expand the range of applications on our product."
Microsoft, one of the biggest names in the technology sector, has struggled as consumers have shunned traditional PCs and laptops in favour of smart-phones and tablet PCs.
Critics say the firm has been too slow to respond to the booming market for mobile devices. It launched its Surface tablet PCs last year, but sales of the devices have been relatively slow. Analysts said that the company wanted to make sure that it got its strategy right in the mobile phone market.
Nokia was once a leader in mobile phones, but the firm's sales fell 24% in the three months to the end of June from a year earlier. It sold 53.7 million mobile phones during the quarter, down 27% on last year. However, sales of its new Lumia phones, which run a Microsoft operating system, rose during the period.
Microsoft has also agreed a 10-year licensing arrangement with Nokia to use the Nokia brand on current mobile phone products.
Nokia also announced changes to its leadership team as a result of the sale. Stephen Elop will step down as president and chief executive of Nokia Corporation and resign from the company's board.
The firm said that he would become the executive vice president of the Devices & Services unit, adding that it expected him to "transfer to Microsoft at the anticipated closing" of the deal.
The transfer of Mr Elop to Microsoft comes at a time when the company is looking for a new chief executive. The current head of Microsoft, Steve Ballmer, announced last week that he would be retiring and is expected to leave the company within the next 12 months.
Summing up his tenure at the helm of one of the world's largest technology companies, he told the BBC: "I'm pleased with what we've achieved; I'm pleased with the level of innovation we've brought to intelligent devices around the globe. But there's always another challenge and with this acquisition we'll take things up to the next level."