Debt-struck Madrid believes its modest budget will end hosting the 2020 Olympics
Friday, September 6th 2013 - 01:42 UTC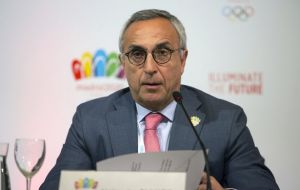 Debt-struck Madrid is betting its penny-pinching bid to host the Olympics in 2020 will reap rich economic dividends for recession-hit Spain. The Spanish capital is banking on a low-cost 5 billion dollars Olympic bid that relies heavily on existing stadiums to surprise Tokyo and Istanbul when Olympic chiefs make their decision in Buenos Aires on Saturday.
It is a tactic of necessity for the Madrid 2020 team, backed by the city, the region and the central government. Madrid has debts of 9.8 billion dollars; the wider Madrid region is in debt to the tune of 21.6 billion Euros; and Spain's overall public debt stands 923 billion Euros, equal to 88.2% of the country's entire annual economic output.
Madrid 2020 is proposing to spend 3.1 billion Euros to put on the Games, plus another 1.9 billion in construction investment. It is a modest sum compared to London 2012's estimated cost of 8.8 billion pounds, or 13 billion Euros.
Madrid says it can save money because 28 of the 35 venues already exist and only four permanent structures will be added, including an Olympic Village of 19 apartment blocks, to be built with private investment and later used as social housing.
As recession-hit Madrid residents protest health and education cuts, and with popular unease over Olympic spending already evident in Brazil ahead of Rio 2016, a costlier bid could have been difficult to sell at home and abroad.
Even when left-wings militants have named the 2010 big "the Hunger Games", an International Olympic Committee-commissioned poll found 76% popular support for Madrid 2020 in the capital, and 81% in the rest of the country.
"Most of the investment to celebrate and organize 2020 has already been done. Madrid today, unlike other cities, does not have to turn itself upside down with works across the whole city," said Juan Maria Gay de Liebana, economist and professor at Barcelona University.
The investment should be financed as much as possible so that payments are made in the 2018-2020 period, he said, a time when the Spanish economy "in principle" should be growing and the income from tourists and benefits from business investment would be visible.
Spanish Olympic Committee president Alejandro Blanco has said that in the seven weeks from the opening of the London Games to the closing of the Paralympics, an extra 2.6 billion pounds or 3 billion Euros entered the city.
"The investment required to have everything ready in Madrid is not affected at all by the crisis. That is why we have the citizens' support," Blanco said.
"We are all in high spirits, we all have a good feeling about it, but we also realize that there is a vote and the result could go any way. You have to be optimistic, fight to the last and wait for the decision."
Madrid 2020 bid organizers say hosting the Games in Madrid would provide a 3.87-billion Euro boost to the Spanish economy and generate 83,000 full-time jobs.
"I sincerely believe that the Games would revitalise the economy, though they would not be a panacea," Madrid Mayor Anna Botella said in an interview with leading daily El Pais a week before the decision.
Whereas the Barcelona Games in 1992 had transformed the city, opening up beachfront areas that still lure visitors today, Madrid's more modest ambitions could have a slighter long-term impact, he said.
After failing to win the Games in 1972, 2012 and 2016, many people in Madrid believe it could be fourth time lucky, and they hope for a boost to a national economy that has been in recession for two years with a jobless rate of more than 26%.