Pacific Alliance again shows its trade growth muscle in 2012
Friday, September 6th 2013 - 02:06 UTC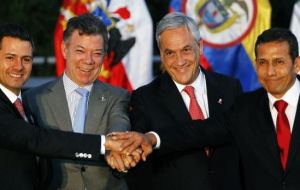 The Alliance of the Pacific, Chile, Peru, Colombia and Mexico, has again given evidence of its potential in Latinamerica: total exports in 2012 reached 556 billion dollars and imports 551 billion, which means the four countries consolidated concentrate 50% of the continent's foreign trade.
The group's main exports are energy, mining, agriculture and manufactured goods in that order, which makes them extraordinarily complementary with the Pacific Asia markets.
The Pacific Alliance countries also attract 26% of all foreign direct investment to the region extending from the US border to Tierra del Fuego, and including the Caribbean.
The excellent performance of the group is also supported with the open markets attitude of the group: Chile has trade agreements with over sixty countries; Colombia and Mexico have 12 free trade agreements with 30 and 40 markets worldwide, while Peru 15 with over fifty countries.
Furthermore the GDP of the four full members is equivalent to 35% of the Latam and Caribbean GDP with an average economic growth of 5% last year compared to 3.2% at global level.
The four countries population adds to 209 million, equivalent to 36% of the region's total, with a per capita GDP of 10.011 dollars. On the Atlantic coast Brazil and Argentina the two leading South American economies have a population of 200 million and 40 million.