Repsol expands gas production in Bolivia to supply growing Argentine demand
Friday, September 6th 2013 - 01:52 UTC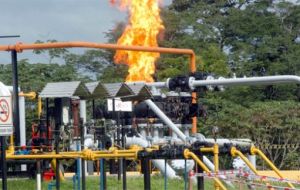 Spain's Repsol inaugurated on Thursday, a month before schedule, a new module of its gas processing plant in Margarita in the south of Bolivia which will allow the company in three weeks, to significantly increase its production and delivery to Argentina, its main client.
Production at the Margarita and Huacaya plants in the province of Tarija will jump from 10.8 million to 15 million cubic metres per day of natural gas. Tarija provides 85% of Bolivia's gas output.
According to Gustavo Gutierrez head of Repsol operations the drilling of four new wells and the construction of new gas pipelines has demanded an investment of 640 million dollars from Repsol (37%) and its partners British Gas (37%) and Pan American Energy (25%).
Next October first Bolivian president Evo Morales is expected to make the official announcement of the increased production which will help address growing domestic and foreign demand for natural gas.
Argentina currently takes 16 million cubic metres of gas per day, which is half the Brazilian demand, but the new production is mostly earmarked for Argentina. The contract with Repsol is for a global processing of 15 million cubic metres, with a minimum delivery of 13 million cubic metres.
The development of Margarita field and plant has demanded since 2010 investments of almost 1.2bn dollars. The soil in the area is dry and midday temperatures in winter can reach 32 Celsius but in summer they balloon to 52 degrees.
A year ago the government of President Cristina Fernandez seized a majority stake in YPF from Spain's Repsol, so far with no compensation.