UK minister says Gibraltar dispute 'could cloud bilateral relationship with Spain'
Friday, September 6th 2013 - 00:26 UTC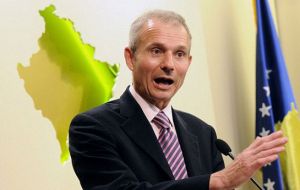 Britain's relationship with Spain could be damaged by the ongoing dispute over Gibraltar, Europe Minister David Lidington warned. Lidington told the Financial Times there was a danger the row would overshadow all other parts of the Anglo-Spanish relationship. "There is clearly a risk that this will cloud the bilateral relationship," he said.
"I think it would be a tragedy were that to be put at risk but I think it's important that no one misunderstands the seriousness of our commitment to Gibraltar and to the democratic right of the people of Gibraltar to remain British."
While British officials have voiced such concerns in private, Lidington is the first UK minister to admit publicly how serious the long-term consequences of the row are.
The comments were published a day after Spanish Foreign Minister José Manuel García-Margallo told the Spanish parliament that Spain wanted to maintain its friendship and "privileged relations" with the UK.
"That friendship is only possible if we resort to dialogue, but at the same time clearly and firmly defend our interests" García-Margallo said. "The UK does it, and I hope Spain will do so too."
Outside of the public eye, diplomatic efforts continued in a bid to establish a framework for dialogue. It follows a number of public interventions by Spanish and British ministers this week on the issue of Gibraltar.
On Monday British Foreign Secretary William Hague made a lengthy statement to the House of Commons setting out the UK's commitment to the people of Gibraltar, while underscoring Britain and Gibraltar's willingness to engage in 'ad hoc' dialogue with Spain. That same night, Deputy Prime Minister Nick Clegg discussed Gibraltar with his Spanish counterpart, Soraya Saenz de Santamaria.
"He reiterated the United Kingdom and Gibraltar's commitment to 'ad hoc' dialogue and confirmed that we were keen to discuss details of how we can take this forward," said a spokesman Mr Clegg.
On Tuesday morning, just hours before García-Margallo's intervention in Madrid, Hague took questions from MPs in the House of Commons. Once again, the message was one of robust support for Gibraltar and openness to dialogue.
The issue could gain momentum in the coming days as world leaders including UK Prime Minister David Cameron and his Spanish counterpart Mariano Rajoy are in St Petersburg attending the G20 summit meeting.
Several sources agreed that, given the prominence of the Gibraltar issue in recent weeks, it was "fairly likely" that the two men would discuss the matter on the margins of the G-20 meeting.