How the Madrid 2020 Olympic dream was shattered to pieces
Saturday, September 7th 2013 - 18:26 UTC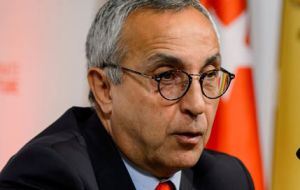 The Spanish delegation arrived in Buenos Aires as favourites to host the 2020 Olympics in Madrid. They had top credentials: the future King (Prince Felipe) himself a sports enthusiast; the least demanding and irritating budget, (based on Brazil's ongoing experience) and ample public opinion support in Spain despite the economic situation and record unemployment.
But something went wrong in those crucial 72 hours in Buenos Aires before the Saturday vote, despite the fact that both Tokyo and Istanbul carried heavy pack-loads with the ongoing radioactive water Fukushima incident and Turkey is not precisely in a peaceful area of the world with some heavy actions imminent in neighbouring Syria.
But then the Madrid daily El Mundo in a display of arrogance published in front page the leading heading: "50 of the 98 IOC members have promised to vote for Madrid"

"Juan, have you read the article?, asked the International Olympic Committee, Count Jacques Rogge in a phone call to Juan Antonio Samaranch (son of a historic IOC president) and member of the Spanish delegation.
Samaranch was emphatic, "no, because nobody in Spain's delegation filtered any news about the IOC vote".
Rogge in a gentleman attitude said in a media round: "is this going to affect Madrid's chanced? Definitively no, my colleagues don't believe in the list of votes for candidacies. They are independent, definitively no".
But then things changed radically: some of the Madrid 2020 advisors were convinced the publication was damaging and would have negative effects and would mean the loss of ten to twenty votes, particularly given suspicions surrounding voting in some international sports organizations.
Tokyo and Istanbul were positively surprised and waited for events to evolve.
And then another major error: one of the main advisors of Madrid 2020 addressed directly Prince Felipe demanding he grants an in-depth interview to a main English language paper to help recover allegedly lost terrain.
However one of the Prince's counsellors warned Spain's Olympic Committee president and responsible for delivering Alejandro Blanco Bravo that that was no way of addressing the future King of Spain. A serious and heated discussion broke out between the two officials, while another official from the delegation personally questioned every member to try and check on the leak, if there was one.
But it was too late: nerves and damage control had been lost. And finally last but not least, with Buenos Aires suffering hours of pouring rain, the internet service at the hotel went down for ten minutes when Spain was doing the utmost to recover ground and having some of its best sportspeople appeal for Madrid. IOC members in Buenos Aires saw the show but the rest of the world was cut off for that precise lapse of time.
Finally, the Madrid presentation apparently had been by far superior to its competitors but IOC had its way of performing and deciding: in the first round Tokyo was ahead and Madrid and Istanbul tied at 26. In the next round the Turkish city managed 49 votes and finally Tokyo obtained a decisive victory with 60 votes. Spanish dreams were over.
"Congratulations to the city of Tokyo on its election as host of the 2020 Olympic Games," said IOC President Jacques Rogge, whose 12-year term in office comes to an end on 10 September.
"Tokyo presented a very strong technical bid from the outset – and it needed to in competition with two such high-calibre bids from Istanbul and Madrid. All three cities were capable of staging excellent Games in 2020, but in the end it was Tokyo's bid that resonated the most with the IOC membership, inviting us to "discover tomorrow" by delivering a well-organised and safe Games that will reinforce the Olympic values while demonstrating the benefits of sport to a new generation."