UK distributes LIBOR fines paid by banks among military charities
Wednesday, September 11th 2013 - 23:42 UTC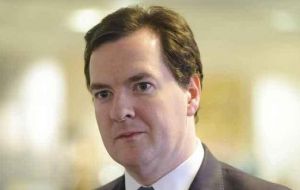 Almost £2.5 million to go to the British armed forces community, including those currently serving, veterans and families. Armed forces charities and good causes are to benefit from the latest tranche of funding from the £35 million Armed Forces Covenant (LIBOR) Fund, the government has announced.
Sixteen military causes are sharing almost £2.5 million in the latest allocation of the fines levied on banks for attempting to manipulate the London Interbank Offered Rate (LIBOR) benchmark. This latest announcement means over £9 million in total has been given to Armed Forces good causes through the 49 charities that have secured funding.
The projects announced will benefit the whole armed forces community, including those currently serving, veterans and families. The charities cover a diverse range of causes and will have an impact across the country.
The Chancellor of the Exchequer, George Osborne said he was delighted to provide this support to the armed forces charities, 'those that demonstrate the best of British values'.
"It is right that these fines, levied on banks for manipulating the LIBOR rates, will be used to provide those serving, veterans and their families with the support they need" added Osborne.
The Armed Forces Covenant sets out the relationship between the British nation, the state and the armed forces. It recognizes that the whole nation has a moral obligation to members of the armed forces and their families and it establishes how they should expect to be treated.
The government allocated £35 million to the Covenant Reference Group to support the Armed Forces Covenant. The remaining funds will be allocated over the next two years. The allocations will be completed by March 2015.