Brazil forecasted to become the leading country in soybean production
Sunday, September 15th 2013 - 20:22 UTC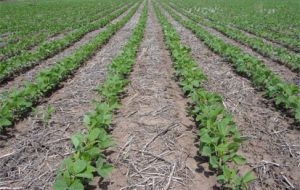 Brazil is to top the world soybean production league for the first time, thanks to the incentive to farmers provided from resilient prices and a weak Real, overtaking the US, whose hopes have been dented by drought.
The US last season held on to its record as the top soybean producer, stretching back to at least the 1960s, thanks to late rains which enabled its drought-tested crop to recover above 82.0m tonnes, beating the Brazilian harvest by a narrow 55,000 tonnes, on Washington estimates.
However, Brazil, which last season did manage to take the crown of top soybean exporter, is on track to trounce the US harvest this year.
US Department of Agriculture estimates upgraded the Brazilian crop, which will be harvested early in 2014, to 88.0m tonnes, 3.0m tonnes ahead of forecast US output.
The forecasts reflect an expectation that elevated soybean prices, coupled with a drop of getting on for 20% in the value of the Real against the dollar over the last six months, will encourage Brazilian farmers to lift soybean area by 4.3%.
"Depreciation results in higher values for exported soybeans which are sold on the global market," the USDA said.
While the Real will also lift costs of inputs such as fertilizers and insecticides, which are largely imported, "the increases in input prices are lower than the increases in the value of the soybeans in real terms and higher profits are expected".
Many private analysts too have come in with lofty forecasts for the Brazilian crop, with AgRural forecasting an 89.1m-tonne harvest.
However, for the high hopes to be realised depends on successful Brazilian sowing and growing seasons, with planting yet to begin in earnest.