Summers pulls out of the race to succeed Bernanke at the Federal Reserve
Sunday, September 15th 2013 - 20:18 UTC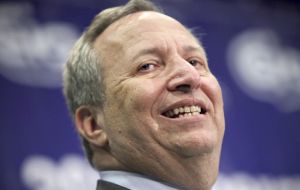 Lawrence "Larry" Summers, the former Treasury Secretary who served Presidents Clinton and Obama, called President Barack Obama on Sunday to say he is pulling out of the race to succeed Ben Bernanke as chairman of the Federal Reserve.
"I have reluctantly concluded that any possible confirmation process for me would be acrimonious and would not serve the interest of the Federal Reserve, the Administration or, ultimately, the interests of the nation's ongoing economic recovery," Mr. Summers said in a letter to the president and reported on the Wall Street Journal.
Opposition to Summers has been mounting for weeks but the fatal blow for his support may have come on Friday from Senator Jon Tester (Democrat-Montana), who announced he'd vote against Summers if he was nominated.
In a switch up from the usual Washington partisan politics, it's actually the ruling Democrats who are unhappy with Summers as a nominee. Liberal Democrats blame Summers for his role in deregulating the financial markets when he served as Clinton's Treasury Secretary.
Congress sources report that at least three other Democrats on the Senate Banking Committee — Sherrod Brown (D-Ohio), Jeff Merkley (D-Ore.) and Elizabeth Warren (D-Mass.) — were expected to vote against Summers' nomination.
President Obama accepted Summer's withdrawal but praised his former economic adviser.
"Larry was a critical member of my team as we faced down the worst economic crisis since the Great Depression, and it was in no small part because of his expertise, wisdom and leadership that we wrestled the economy back to growth and made the kind of progress we are seeing today" said President Obama in a statement.
"I will always be grateful to Larry for his tireless work and service on behalf of his country, and I look forward to continuing to seek his guidance and counsel in the future."
The decision will force Obama to find a replacement nominee now that his rumored favorite is no longer an option.
The other candidates for the job are Fed Vice Chair Janet Yellen and former Fed Vice Chair Donald Kohn. Former Treasury Secretary Timothy Geithner was also listed as a possibility but has said he's not interested.