Colombia denies registry of the 'Escobar' trademark to family members
Monday, September 16th 2013 - 01:32 UTC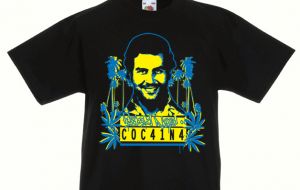 Colombia's government has refused registration as a trademark of the full name "Pablo Emilio Escobar Gaviria" the country most notorious narcotics criminal. According to local news in Bogotá the application was filed by Maria Isabel Santos Cabalerro, Juana Manuela Marroquín Santos and Juan Sebastian Marroquín Santos, Escobar's widow and children respectively who changed their names after settling in Argentina in the late 1990.
The three had requested the international recognition of the trademark for the purposes of education, training and recreation.
The Commission of Industry and Commerce refused to register a trademark which bears the name of 'the most notorious drug lord in Colombia's history', adding it would be immoral and subvert public order'. It said the name Pablo Emilio Escobar Gaviria is associated with a dark period of violence in Colombia that claimed thousands of lives as he fought extradition to the United States.
The applicants alleged that the trademark "sought to convey messages that invite reflection of humanity, hoping to generate a moral awareness".
In 2012, Sebastian Marroquín, the son of Escobar, sparked controversy by launching a line of t-shirts and other clothing emblazoned with the identity document of his father, his credit cards and a certificate of criminal record, among other documents.
The T-shirts were part of the "Poder-Poder" collection and commercialized via internet with his trademark "Escobar-Henao" and the main markets were the US, Mexico, Guatemala, Ecador, Spain and Austria.
In an interview in August 2012 in Buenos Aires, the son of Escobar said that his intention was to invite young people to "not repeat" the story of his father.
According to official estimates, Escobar's Medellin cartel perpetrated 4,000 murders throughout the eighties and nineties. The drug lord died in a shootout at the hands of law enforcement officers in December 1993, a year and a half after his escape from a prison he had built for him and his cronies, (with government consent) La Catedral.
It included a covered football pitch and Escobar, a fanatic of soccer, would invite some of the best players of South America to exhibition matches for which they were generously rewarded.