Falklands receives visit of lawmakers from Panama's National Assembly
Tuesday, September 17th 2013 - 06:45 UTC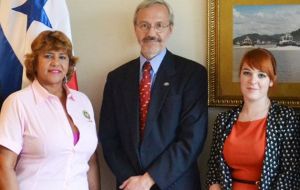 A group of Panama National Assembly members has arrived in the Falkland Islands for a week long visit. The party is headed by Foreign Affairs Commission president Dalia Bernal and includes Yaniel Abrego, president of the Education Commission, lawmaker Renaul Dominguez and Jorge Gantes legal advisor of the Foreign Affaris Committee.
Last April Dr. Barry Elsby and young Islander Krysteen Ormond visited Panama as part of a South and Central America diplomatic tour to inform on the results of the March 10/11 referendum when the Falklands' people overwhelmingly voted to remain a British Overseas Territroy.
In Panama MLA Elsby and Ms Ormond were received by Ms Dalia Bernal president of the Foreign Affairs commission, other parliamentarians and legal advisors.
At the time Ms Bernal pointed out that the commission was keen to listen to the Falklands' delegation and asked several questions. However she also pointed out that the Commission's job was to listen to both sides of the dispute and that Panamanian foreign policy is determined by the country's Ministry of Foreign Affairs.
Ms Bernal indicated that Panama has excellent relations with both sides (UK and Argentina) and "can't decide or determine the position any of the two sides must assume".
As part of the four day visit in Panama, Krysteen participated of a lively questions and answers session at the Universidad Latina de Panama, with some seventy international relations and law students in attendance.
In the Falklands the government has prepared a round of interviews and a list of places to visit.