Gibraltar drafting legislation to allow fishing under strictly controlled conditions
Tuesday, September 17th 2013 - 07:02 UTC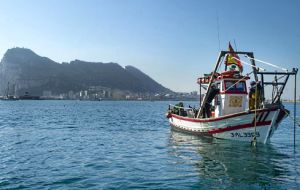 The Gibraltar Government has taken another legislative step toward allowing fishing with certain types of nets in British Gibraltar territorial waters under limited, strictly-controlled conditions, reports the Gibraltar Chronicle.
A Bill for an amendment to the Nature Protection Act published last week is a key element of the Government's "long-standing plan" to allow sustainable fishing within the law, senior sources said.
The Bill, which has yet to be debated and approved by the Gibraltar Parliament, does not lift any prohibition. But it isolates "seine nets, trammel nets and devices for raking of the seabed" into a specific clause of the Act. These are the traditional methods used by Spanish fishermen in Gibraltar waters.
Allegedly regulations to be published in the coming weeks will lift the ban on the methods contained in that clause, but only under clearly-defined circumstances that will include some form of registration scheme.
The latest move has been under review for months and was flagged up last month by Chief Minister Fabian Picardo in an interview with El Mundo newspaper.
"As an act of good faith ... I will propose that parliament introduces a change in the law so that the 59 boats can fish again based on their historical fishing practices," Mr Picardo told the newspaper at the time.
The Gibraltar Government insisted that the move to lift the prohibition was not new and its policy on sustainable fishing had been explained in public and in private numerous times over the past year.
It said the objective was to amend the legislation and allow some fishing by Spanish and other fishermen in British Gibraltar Territorial Waters using lawful methods. Fishing will only be allowed within a properly-regulated and accountable regime that complies with the overriding principle.
The initiative seems directed to defuse the current dispute with Spain over fishing in the British Overseas Territory waters which has led to retaliation and threats from both sides.