Barclays 'worst bank for honesty and customer service' says UK 'Move Your Money' rating
Wednesday, September 18th 2013 - 00:32 UTC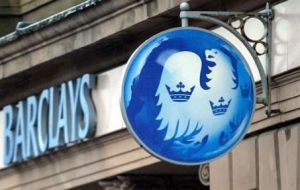 Barclays is the worst bank for honesty and customer service, according to an ethical scorecard launched Monday in the UK to guide those looking to switch their current accounts. The bank picked up just four out of 100 points in campaign group Move Your Money's ratings, with the five biggest banks among the poorest performers in the 70 that were assessed.
The other high street giants, RBS, HSBC, Lloyds and Citibank, were also graded 'red' for having less than 25 points in the UK-based survey.
RBS including NatWest was the second worst performer in the scorecard with seven points, followed by HSBC with 18, Lloyds including Halifax with 21, and Citibank with 24.
Smaller current account providers topped the ratings, led by Cumberland Building Society with 89 points.
The scorecard comes alongside a YouGov poll that suggests 80% of consumers would be put off moving their money to a badly behaved bank, with more than half deterred by excess bonuses, high levels of complaints and involvement in criminal behaviour.
Laura Willoughby, head of Move Your Money, said Barclays was dragged down in its ratings by a high number of customer complaints, as well as its involvement in scandals such as Libor fixing and the mis-selling of Payment Protection Insurance.
She said: "Banks want you to think they have changed. Our scorecard shows that many have not."
A spokesperson for Barclays in the UK said the bank was "disappointed" by the ranking. "We work hard to put our customers at the heart of everything we do and have taken active steps to ensure this happens."
"Over the past year we have demonstrated this through the removal of sales incentives for staff and the transparent publication of our complaints data, with a clear action plan for tackling them."
Barclays vowed to launch a Your Bank campaign this week, which will encourage more feedback from customers to guide its future strategy.
Move Your Money worked with Ethical Consumer to produce a 'Switching scorecard' for over 70 institutions using the five criteria of honesty, customer service, culture, impact on the economy and ethics.
Barclays has revealed it is facing a £50 million fine over claims it acted "recklessly" in its multibillion-pound bailouts from Qatar in 2008. The Financial Conduct Authority (FCA) accused it of agreeing £322 million of secret payments to Middle Eastern investors to secure their support for cash calls totalling more than £5 billion at the height of the financial crisis.
Barclays, which contests the FCA findings, said the fees relate to advisory services over five years.