EC fact-finding mission to Gibraltar/Spain arrives next September 25
Wednesday, September 18th 2013 - 20:50 UTC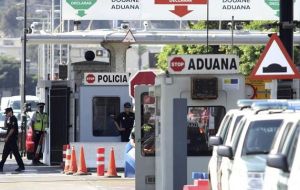 The European Commission will send a fact-finding mission to the Gibraltar-Spain border on September 25 to assess Spanish customs controls and their impact on freedom of movement. The date for the mission was confirmed on Wednesday following days of wrangling over the scope of its mandate, reports the Gibraltar Chronicle.
Spain wanted to expand the remit to allow EC inspectors to look into allegations of money laundering and environmental damage, both strongly denied by the UK and Gibraltar. But although the exact detail of the technical mission has yet to be revealed, all the indications are that it will focus solely on border issues.
"President Barroso spoke today with Prime Minister Rajoy," said Pia Ahrenkilde-Hansen, spokeswoman for the EC. "They decided that the mission…will visit the border between Spain and Gibraltar on 25 September to assess the border controls, free movement of people and goods, including fraud and smuggling".
"It was also agreed that the complaints made by Spain regarding the dumping of concrete blocks and the re-sanding in the context of the Eastside project will be dealt with in parallel and with the thoroughness required by the European Commission".
The Commission has stated repeatedly in recent weeks that the mission, despite pressure from Spain, would have a clear mandate focused on border issues.
The prospect of EU inspectors monitoring border flow was first broached in a conversation between UK Prime Minister David Cameron and EC President José Manuel Durão Barroso last August. PM Cameron complained at the time that Spanish customs checks were "politically motivated and disproportionate".
The British Government welcomed the latest announcement from Brussels. "We welcome this confirmation that a monitoring mission will be sent," a spokesman for the Foreign & Commonwealth Office told the Gibraltar Chronicle.
"This mission is in direct response to the PM's request to European Commission President Barroso to send an urgent monitoring mission to Gibraltar-Spain border".
"We and Her Majesty's Government of Gibraltar stand ready to offer all necessary support to ensure that the mission can conduct its investigation successfully."
The announcement coincided with the first day in weeks where there were no delays experienced at the border.