Argentina and Brazil address Mercosur and trade discussion with Europe
Friday, September 20th 2013 - 08:31 UTC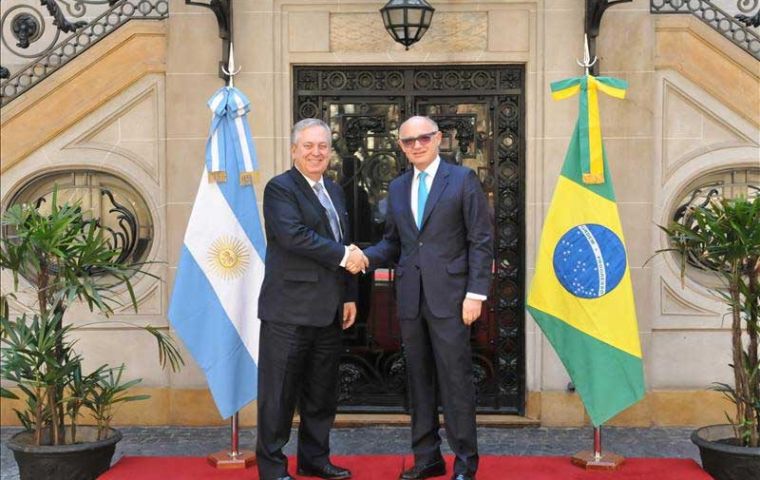 Argentina's Hector Timerman and Brazil's new Foreign minister Luiz Alberto Figueiredo Machado discussed a long agenda of common interest issues during a work meeting held in Buenos Aires, which included Mercosur, trade discussions with Europe, Unasur, Haiti and US cyber-spying in the region among other issues.
According to a release from the Argentine foreign ministry the meeting in the framework of the strategic alliance between the neighbouring countries addressed regional and international issues and priority projects of the bilateral agenda such as nuclear, space, defence, air industry cooperation and energy sharing from dams in shared rivers.
"Mercosur integration process, currently chaired by Venezuela and Paraguay's full return, as well as the current state of trade and cooperation negotiations of the block with the European Union were addressed with an exchange of opinions on the issues", says cryptically the release.
Other issues included the election of a new Secretary General for Unasur and the continuity of the UN peace mission in Haiti, MINUSTAH, which is under military control of South American countries.
Another issue was the need to coordinate positions and joint actions to counter the United States cyber spying in the region and to advance in the development of defence tools that protect communications and storage of strategic information.
Finally Timerman and Machado called for a 'political solution' to the Syrian situation. The next meeting of the bilateral round is scheduled to be held in Brasilia.