Falklands' 'friendly VC10' retires from RAF service after 47 years
Friday, September 20th 2013 - 19:57 UTC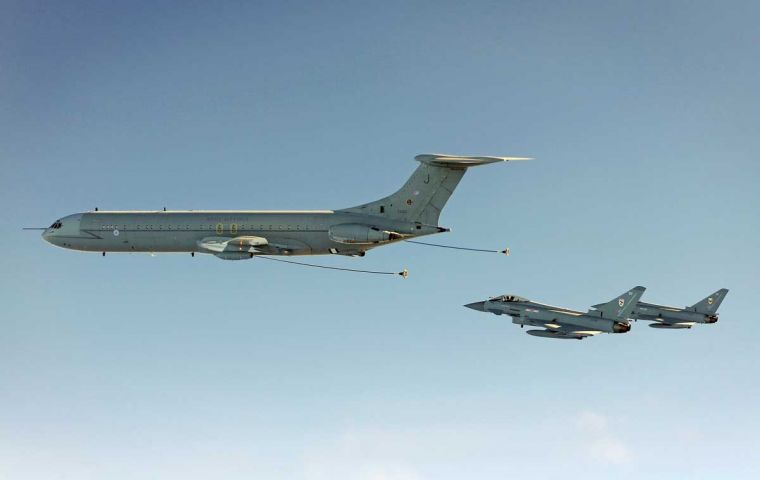 After 47 years of service for the Royal Air Force, the VC10 took to the skies on Friday 20 September 2013 for its final Air-to-Air refuelling operational sortie. The aircraft will retire on 25 September 2013.
For over a quarter of a century a VC-10 was stationed in the Falkland Islands mainly for air-to-ari refuelling but also for medical emergencies.
Group Captain Steve Lushington, RAF Brize Norton Station Commander, provided some words before takeoff.
"You only have to look through the chapters of aviation history to find the VC10 has played a part somewhere along the line, be that the returning of those people held hostage around the world, flying the Royal Family, The Queen, heads of state and Prime Ministers to all sorts of wonderful locations as part of state visits."
When asked further about the VC10s here at RAF Brize Norton, he added, "There is a significant amount of VC10 history at RAF Brize Norton and we're very proud of that heritage."
On Friday VC10s, ZA147 and ZA150, flew together in a sortie that involved refuelling a Typhoon, Tornado GR4 and Hercules, along with refuelling one VC10 from another.
To mark the significant role the aircraft has made to the fast jet customer, it flew over various RAF stations including; RAF Lossiemouth, RAF Conningsby, RAF Marham, RAF Leuchars, Warton, Birmingham and Prestwick.
Squadron Leader Jess Gannon, Captain on VC10 ZA147, said on return from this sortie, "It's probably going to take a little time to sink in actually but you can see by us all that we're all a little subdued – it's a bit of a sad day to be fair. It's been a big part of all of our lives for quite a long time and it's such an iconic aeroplane so to be the guys that fly it on the last operational sortie, it's been an absolute pleasure.

When asked about how much support has been received, he added, "You can see by the crowds that have been out to see us at these areas that the support from the public for these tremendous aircraft has been absolutely phenomenal."
Following the retirement of the VC10 at the end of this month, 101 Squadron move forward and continue their legacy flying the RAF newest aircraft, KC-30 Voyager.