UEFA agree in principle to move date of 2022 World Cup in Qatar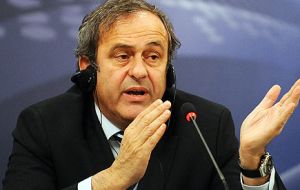 The 54 member federations of European governing body UEFA are unanimously in favor "in principle" of moving the 2022 World Cup in Qatar to a different time of the year, UEFA president Michel Platini confirmed on Friday.
The tournament, which is usually held in June and July, would run into scorching temperatures in Qatar and governing officials, including Platini and world governing boss Sepp Blatter, have entertained the idea of switching the tournament to what would be the European winter season.
"Concerning the 2022 World Cup in Qatar, there are two things. First the FIFA president (Blatter) will speak about 2022 at the next FIFA executive committee meetings (October 3 and 4 at Zurich).
"Also, the European federations have declared unanimously to be in agreement on the principle that they are not against playing the 2022 World Cup in winter, I said in principle, full stop." added the Frenchman at the ongoing UEFA meeting in Croatia.
"We do not know what will happen with the executive committee of FIFA, so it is difficult to say, I would say that the ball is at the feet of the president of FIFA." he added.
On Thursday, FIFA vice-president Jim Boyce revealed that UEFA supported a move to winter and there was still plenty of time for all parties to agree.
Northern Irishman Boyce said that UEFA's members want world governing body FIFA to speak to the game's main stakeholders over when exactly the tournament should take place before announcing any alternative dates.
"What has come out of this meeting is an agreement by the UEFA countries that the World Cup cannot be played in Qatar in the summer. Everyone agreed on that," Boyce told Sky Sports News.
"But we don't want FIFA to make a decision yet about when exactly it will be played. We still have nine years to go and we think FIFA needs to help find a solution that will not cause too much disruption".
"There is plenty of time to do that."
Qatar was awarded the right to host the 2022 tournament in 2010, but FIFA, UEFA and footballers' union FIFPro have since called for it to be moved to a different time of year.
Mid-year temperatures in the Gulf can reach a sweltering 50 degrees Celsius (122 degrees Fahrenheit), whereas the average highest temperature in winter is a markedly cooler 24 degrees Celsius.
However, proposals to change the date of the tournament have met with opposition from leading European clubs, who are concerned about disruption to their traditional calendars. The chief executive of the money-spinning English Premier League, Richard Scudamore, has described the plans as "nigh-on impossible".