Mujica blasted consumerism and called for political heads to rule the globalized world
Wednesday, September 25th 2013 - 06:14 UTC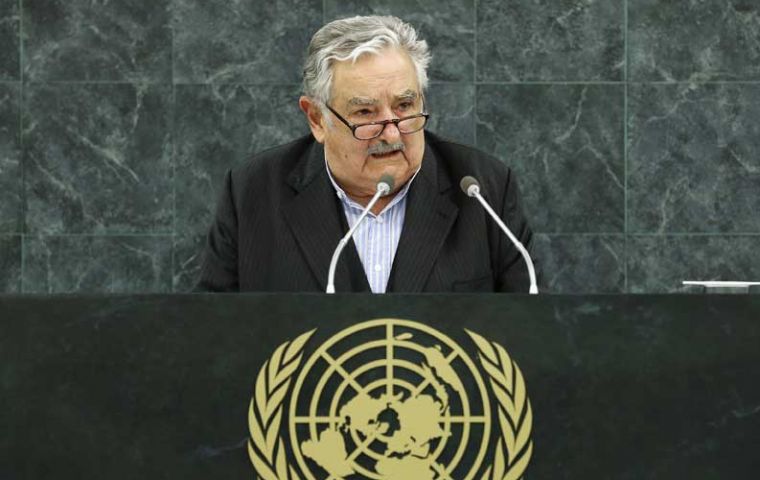 In a fiery speech before the UN General Assembly, Uruguayan president Jose Mujica criticized consumerism and waste, electronic surveillance which 'poisons' relations among nations, called for a true globalization and blasted individual greed which has "far outstripped the superior greed of the human specie".
In his forty minutes intervention Mujica also said that politics that should rule human relations had succumbed to economics and has become a mere administrator of what the financial system does not control, and more specifically on Uruguay which abides by UN rules and is the main contributor per capita of peace keeping forces, "we are always in the places which are assigned to us, however in the big table where resources are decided, we don't exist not even to cater a cup of coffee".
Mujica pointed out that "we have flattened the true jungles and implanted those of cement" and recalled that what really transcend are "love, friendship, solidarity and the family" and thus what must be determinant "is life and not accumulation", the direct consequence of rampant consumerism.
The Uruguayan president also criticized the 'bureaucratization' of the UN because it lacks power and autonomy which forces "world institutions, particularly nowadays to vegetate under the consented shade of the great nations' dissidence".
Likewise Mujica called on the assembly to understand that the indigents of the world "are not from Africa or Latinamerica, they belong to the whole of humanity, of the overall total of the specie, and an example of the failure of the succumbed politics.
And with a more philosophical and ethical emphasis, Mujica admitted, "Yes a better world with a better humanity is possible. However our main duty right now is to save human life".
Mujica who presented himself 'as a man who had come from the south', over and over attacked consumerism, accumulation in a globalized society which "does not care about the human being or life"
"I come from the south and as such I carry the burden of the millions of my fellow continent people in the cities, in the hills, in the pampas, in the deserts and in the skid roads of Latinamerica".
"I come from the south and I come to this assembly with the burden of electronic surveillance, which only sows mistrust and poison", insisted Mujica in clear reference to the cyber-spaying system mounted by the US to keep track of several Latinamerican countries affairs and of their governments, and even private corporations, such as claimed in Brazil.
"I come from the south and with the duty to struggle for a large motherland for all and for Colombia to find its path to peace. With the command of fighting for tolerance" said Mujica who at the same time regretted 'humanity has sacrificed the old immaterial gods" while the temple is taken over by 'God market'.
"It all seems we were born to consume, consume and consume and when we can't, we are loaded with frustration, with poverty and self exclusion".
"We are proposing a life of waste and squandering which in reality is a regressive bill. A civilization against simplicity, against society, against all nature cycles, and even worse a civilization against freedom which means having free time to enjoy human relations and only transcendent: love, friendship, adventure, solidarity and family".
"The little man of our days, faithfully every day to his job, to his office, consuming, consuming, spending with plastic, with credit, with instalments, hoping for vacations and never enjoying true life, and when he dies, with his funeral service in instalments, he is replaced by another little man with the same mind-frame".
Mujica said the world desperately needs global legislation that respects the achievements and advances of science, and with science and the art of politics, the world should be ruled, 'not by the cusp of finance which promotes accumulation and credit for more accumulation'.
"And this will go on with wars and fanatics, and fundamentalists, until maybe nature calls on us into order and makes our civilization unviable".
In effect "while humans live in a climate of war they will be in pre-historic times" thus so important our modest contribution but also our duty to help Colombia find the path of peace".
"Let us not get distracted tinkering with consequences, let us think in the real causes, in the civilization of waste and squandering that only wastes life. Let us concentrate that human life is a miracle, that there is nothing more valuable than life. And that our biological duty is above all respect for life, to boost it and understand that we are the specie, it's us".
Finally the Uruguayan leader said that "the species should have a government for the whole of humanity above individualisms and that it struggles for the recreation of political heads, because as things are "instead of governing globalization, globalization is ruling over us, which is also evidence of the failure or lack of politics".
On Wednesday President Mujica is scheduled to receive US Vice-President Joe Biden and whole a raft of meetings with US business people and with Uruguayan residents in the US.