Chilean Army Commander in Chief on an official visit to United Kingdom
Thursday, September 26th 2013 - 05:56 UTC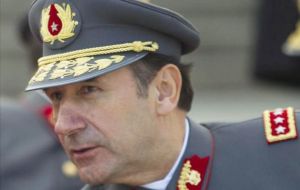 Chile's Commander in Chief of the Chilean Army General Juan Miguel Fuente-Alba was in the UK for an official visit to strengthen links between the British and Chilean armies.
During his visit, General Fuente-Alba also met with the Minister for International Security Strategy, Dr Andrew Murrison MP, and was briefed on various themes drawing on the British experience of restructuring their Armed Forces. In addition, General Fuente-Alba managed to visit the London Eye and enjoy a tour of the Tower of London.
As part of his recent official visit to the UK, General Juan Miguel Fuente-Alba laid a wreath at the tomb of the Unknown Soldier in Westminster Abbey. The solemn occasion was attended by the Chilean delegation and representatives from the United Kingdom.
Military visits and exchanges between Chilean and UK armed forces are regular and date back to when the South American country became independent from Spanish rule in early XIXth century.