Rajoy calls on UK for dialogue on Gibraltar, last 'colonial anachronism' in Europe
Thursday, September 26th 2013 - 21:29 UTC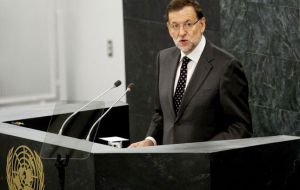 Addressing the UN General Assembly Spanish President Mariano Rajoy described the Gibraltar situation as a 'colonial anachronism' and criticized UK's dialogue denial attitude on the Rock's sovereignty. The speech comes at a tense moment in Gibraltar and Spain relations, but according to the Madrid press, Rajoy was less forceful than expected.
Rajoy recalled that the UN General Assembly has developed a consolidated and universal legal doctrine on de-colonization which Spain has integrally supported, but once again had to bring the Gibraltar issue before the assembly since it is a 'British colony which the UN included in 1963 in the list of non autonomous (self-governing) territories pending de-colonization'.
"It is the only pending colony in Europe affecting our territorial integrity" said Rajoy adding his disappointment with the fact that since then (1963) the UK has been disregarding the UN assembly mandate and the 1984 Brussels Declaration compromise agreed with Spain in which both countries committed to bilateral dialogue on Gibraltar's sovereignty.
The Spanish president insisted that Gibraltar currently is a "colonial anachronism' which continues to cause inconveniences to the citizens of the Rock and the adjacent zone.
"On the legitimacy granted by the universal doctrine of this General Assembly, Spain once again reiterates its call to the UK for the resumption of bilateral dialogue and regional cooperation".
However Rajoy did not make reference to the Gibraltar's attitude that this (European) summer dropped cement blocks into the bay of Gibraltar with the purpose of creating a reef that in effect impedes Spanish fishermen from trawling in the area.
But on arrival to New York on Tuesday the Spanish president did underline that it could not be admitted that Gibraltar continues to be a tax haven where there is also contraband and international environmental rules are not complied.
"We can't have a tax haven in the middle of the European Union nor can we have a territory that does not abide, as everybody knows with the most elemental environment rules" underlined Rajoy.
This is the second time (the first was last year) that the Spanish president calls on the UK for a 'direct and sincere' bilateral dialogue on Decolonisation of Gibraltar. "Too many years have been lost", said Rajoy.
The Spanish leader also reaffirmed Spain's global solidarity and its contribution to keeping international peace and security, as well as commitment to issues related to development and human rights respect.
Likewise he recalled Spain is the sixth contributor to the UN system and the eighth donor of humanitarian aid. Finally Rajoy said that Spain has shown with facts and not declarations its total commitment to the UN and its charter, and thus merits a seat at the UN Security Council in 2015/16.
The less harsh words on Gibraltar can be explained by president Rajoy's round of financial media in New York to announce to the world that that Spain was coming out of recession