Storm death toll of recently sheared sheep in Uruguay climbs to 54.200, not counting lambs
Thursday, September 26th 2013 - 06:34 UTC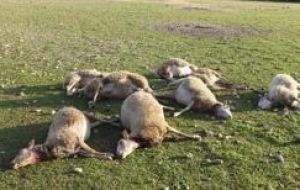 The recent rain, wind and cold storm that severely punished Uruguayan farmers last week caused the death of 54.200 adult sheep. The sum from a survey conducted by the Uruguayan Wool Secretariat, SUL, almost doubles the original 30.000 estimate and does not include the recently born lambs.
Next week a delegation from SUL headed by president Joaquin Martinicorena is scheduled to meet with Agriculture minister Tabare Aguerre to look into mechanisms to help small and medium sized farmers rebuild their flocks.
"The five day running rain, wind and cold storm caused the loss of 54.200 sheep and an undetermined number of lamb deaths according to a survey that covered 280 farmers" said Martinicorena who added that some small farmers lost almost 60% of their flocks.
Most losses were in farms to the north of Uruguay where the soil is basically basalt and poor for agriculture.
Although SUL did not want to advance proposals, Martinicorena said the idea "is to look for solutions for small and medium sized farmers which have lost most of their assets, and in the case of larger farms, long term accessible credits".
Minister Aguerre said that the mortality in "global terms was in what can be considered normal, less that 0.05% of the country's flock. The problem is that it punished a specific number of farmers".
However Aguerre added that his office was also drafting a 'matching financial mechanism which better prepares us for the future in the event of adverse climatic conditions; this was implemented when the hail of last January in the small vegetable and fruit farms, and includes an insurance against such climate situations".
Aguerre pointed out that a rainy spring is essential for cattle fodder ahead of dry summer months for natural pasture, but five days of storm which was preceded by exceptional high temperatures was the right combination for the losses.
"This helps to explain why the dead sheep were mostly animals that had been recently (15/20 days) sheared".
Faced with the climatic phenomenon there was not much to be done since "the sheep were under great stress, ill fed and weakened", concluded the minister.