South Georgia krill could suffer most global warming according to BAS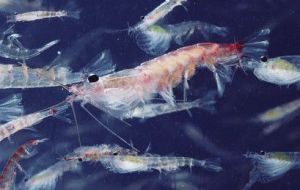 Modelling of the effects of sea temperature rises in the Southern Oceans indicates that krill in the seas around South Georgia may be the hardest hit of the region by the effects of global warming, reports the August edition of the South Georgia Newsletter.
Using statistical models, a team of researchers from the British Antarctic Survey (BAS) and Plymouth Marine Laboratory assessed the likely impact of projected temperature increases on the Weddell Sea, Scotia Sea and Southern Drake Passage. This region has already experienced sea surface warming of as much as 1°C over the past fifty years. Projections suggest this could rise by another 1°C by the end of the 21st century.
In the early life stages krill require deep water with low acidity and a narrow range of temperatures for their eggs to successfully hatch and develop. The larvae then feed on algae on the underside of sea ice. Krill are especially sensitive to sea temperature in the areas where they grow as adults, such as around South Georgia. The adults require suitable temperatures and enough of the right type of food (larger phytoplankton) to successfully grow and reproduce. Many of these critical environmental features (temperature, acidity, sea ice and food availability) could be affected by climate change.
When the scientists modelled the expected effects of increased sea temperature the most pessimistic scenarios suggested warming could reduce the area of krill growth habitat overall by up to 20%. But South Georgia, located within the area likely to be worst affected, could have a reduction in krill habitat as high as 55%. As South Georgia is home to animals such as fur seals and macaroni penguins that depend upon krill, and others, such as black-browed albatrosses, which eat substantial amounts of krill, such marked reduction in krill habitat could significantly effect their populations.
Krill is fished commercially in the Southern Ocean and whilst the current catches are considerably less than 1% of estimated biomass, there is a risk that high catches over small spatial scales could reduce the availability of krill to predators such as penguins and fur seals. Any reduction in krill availability could be particularly damaging during the breeding season. The authors of this paper suggest that improved management systems could be put in place to ensure that krill fisheries take into account both growing demand for commercial catches and climate change. The seasonal closure of the krill fishery in South Georgia waters is a good example of how predator demand for krill can be protected during the breeding season.
Whilst this study uses the best available knowledge to estimates the possible impacts of climate change, it is impossible to predict the future with certainty. This study follows others which suggest that human-induced acidification and sea-ice loss are likely to affect Antarctic krill populations