Uruguay is much respected in international affairs, said President Mujica
Friday, September 27th 2013 - 07:26 UTC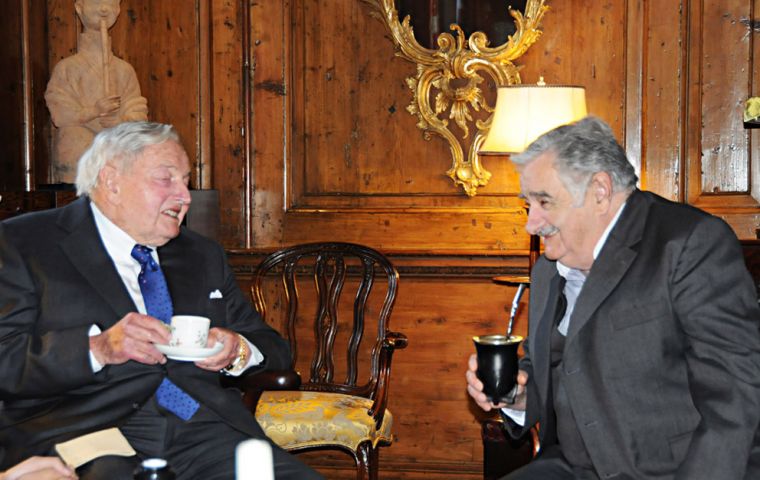 Uruguay's voice is much respected in international affairs and this can be attributed to the country's foreign policy, although 'it's not only a merit of this administration but a long term achievement', said President Jose Mujica on Thursday in a brief exchange with the media delegation covering events in New York.
"This is an achievement that leaves us well positioned: the voice of Uruguay is listened to in foreign affairs and there is an international acknowledgement" said Mujica.
He added Uruguay has a well earned respect overseas "which is far larger than the dimensions of the country and of what we are. We are seen as a serious country with solid institutions and a bonhomie which we don't recognize or value".
But Mujica also pointed out it was not an only merit of the current government but rather a course of action that somehow Uruguay has been capable of sustaining for decades.
"There is an international acknowledgement and we are well listed in the regional and global context, which should make us feel proud".
To that respect Mujica pointed out that all the meetings he had, be it with Vice-president Biden, Colombian leader Santos, billionaires Soros and Rockefeller and others were all requested, "we didn't' ask for them and the truth is, I think they are much interested in knowing what is going on in Uruguay".
In effect one of those meetings was with David Rockefeller, 98, the patriarch of the family, one of the richest in the US and with many investments in Latam.
During the 45 minute-meeting Mujica and Rockefeller exchanged opinions on how the societies of the two countries are organized and while the US businessman drank tea, the Uruguayan leader had 'mate' the infusion tea from 'yerba leaves' which is so common in the River Plate.
Mujica a former urban guerrilla leader who in the sixties pledged to defeat the 'imperialist Rockefellers exploiting South America", when he was running lose robbing banks, kidnapping diplomats and shooting police forces admitted that "coming to visit you is like crossing the Rubicon, because you are the symbol of a reality and we always acknowledge realities".
The president also revealed that the magnate was interested in knowing how Uruguay was planning to implement the policy to regulate the market and consumption of marihuana.
Mujica said that Rockefeller admitted that his father had adopted a very radical position regarding prohibition in the thirties in the US. "But after some time when he saw the positive effects of the new approach he realized that prohibition had been a terrible mistake given its practical effects".
"My father had the intellectual concern of being knowledgeable and I realize that the current anti drugs and anti narcotics policies implemented are not working", said the US billionaire.