Uruguay planning a fluvial outpost next to a pulp mill questioned by Argentina
Friday, September 27th 2013 - 08:10 UTC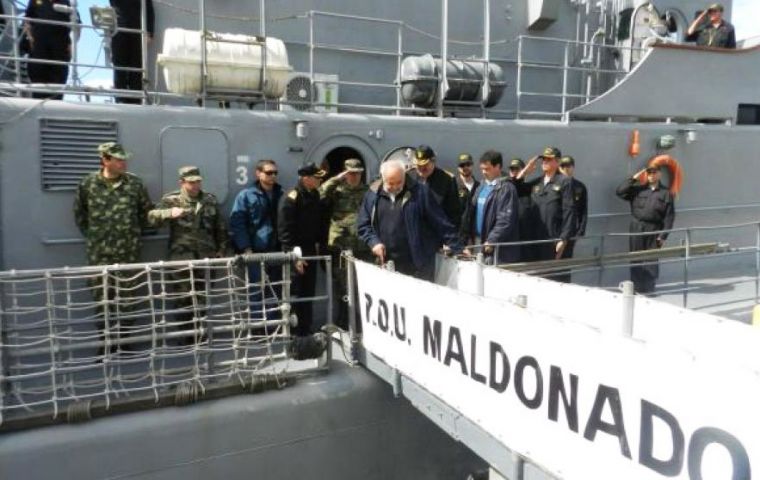 The Ministry of Defence and the Navy share the dream of having a fluvial outpost at the head of the San Martin bridge" which links Uruguay with Argentina, said Uruguayan Defence minister Eleuterio Fernandez Huidobro following a joint forces exercise denominated 'Turbulent River' involving land, naval forces and air support.
The base would be next to the UPM pulp plant, the largest in Uruguay which caused a several years conflict with Argentina regarding the administration of the shared River Uruguay waters, alleged contamination, pickets that blocked the bridge for years and which finally reached the International Court of The Hague.
"We have 30 hectares, the jetties and the old work shop of the bi-national bridge", added the minister who said a helicopter landing pad was also planned. However he admitted that having a strategic terrain was not enough because "we need the funds for infrastructure: fuel depots so that we can have river patrol vessels stationed permanently."
"These are some of the plans of the current Navy commander and the Defence ministry which is in our work agenda and we would like to make it a reality as soon as possible".
However Fernandez Huidobro was quick to point out that the relations with Argentina's Defence ministry are 'excellent' and "we are constantly in contact with joint exercises and air surveillance".
"A fluvial outpost in Fray Bentos across from Gualeguaychú does not bother at all the Argentine armed forces or the Coast Guard; on the contrary we are both members of Unasur and this will contribute to greater patrolling, search-and-rescue operations including protection of the environment" insisted the minister.
The "Turbulent River" joint exercise involved personnel from the Uruguayan Army, Navy and Air Force and a contingent of special forces plus three mine sweepers. The purpose of the exercise was to improve planning in the event of a military incident, natural catastrophe or threat to the country's territory, following on "the doctrine of joint operation of the three services".