Paraguayan economy boosted by agriculture expanding at an annual 13.3%
Monday, September 30th 2013 - 16:39 UTC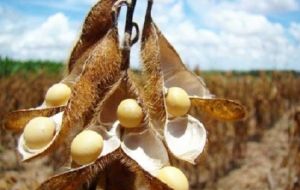 Paraguay's GDP expanded 13.3% in the second quarter of this year boosted by agriculture and beef exports, according to the latest release from the Central bank. Agriculture has proved the most dynamic sector with 6.2% growth helping Paraguay to have the fastest growing economy this year in Latam following on a 0.9% retraction last year, because of an extended drought.
Helped by strong commodity prices the Paraguayan economy has been moving ahead strongly with an average 4.5% from 2004 to 2008, followed by a 4% retraction in 2009 but immediately 13.1% ion 2010 and 4.3% in 2011.
The Paraguayan central bank had already forecasted last April "strong growth" in the range of 13% of GDP in 2013 because of the quick recovery of agriculture after suffering two years 2011 and 2012 of severe adverse climatic conditions. To this had to be added an anticipated increase in construction both from the private and public sectors.
Last April the UN Economic Commission for Latam, ECLAC lowered annual expansion to 10%, although underlining that Paraguay would be the country with the best economic performance this year.
The central bank said that agriculture in the second quarter expanded 45.9%, with good climate conditions anticipating an excellent soy crop, which is Paraguay's main export item. Paraguay is among the world's top exporters of the oil seed.
But services also expanded 11% compared to a year ago contributing 5 percentage points to GDP growth, and thus the second strongest sector in performance, said the central bank adding that domestic and foreign demand also played a part. Demand for grains and oilseeds and a resumption of beef sales to Chile, which had been suspended since an outbreak of foot and mouth disease in 2011.
Thus livestock, froestry, fisheries, mining and manufacturing also out performed their previous percentages and all expanded above8.2% compared to the second quarter of last year.