Argentina buys 16 Mirage F 1 from Spain; half have air-refuelling capacity
Tuesday, October 1st 2013 - 03:55 UTC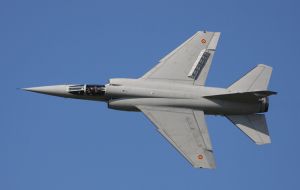 Argentina has confirmed the purchase of 16 second hand Mirage F-1 decommissioned from the Spanish Air force in an operation valued at 170 million Euros. The expenditure is contemplated in the 2014 budget bill approved in the Lower House and which awaits debate in the Senate.
"The Argentine Air Force anticipates the incorporation of the Mirage F-1, which will replace the Mirage III in process of decommissioning" reads page 115 of the budget bill. The revelation is not new, Defence minister Agustin Rossi had announced in August that "we are working with the government of Spain" on the possible purchase of aircraft but did not provide further details.
After 22 years in service, the Mirages were decommissioned by the Spanish Air Force at the airbase of Los Llanos in Albacete during a ceremony last June. They had been refurbished in the nineties with improved avionics and firing capacity.
Apparently the Mirage F-1 has a last generation laser inertial system which ensures autonomous navigation of great precision with a GPS and a computer that optimizes besides navigation, the targeting system.
They have a maximum speed of 1.320 kilometres and flight autonomy of 500 miles and of the 16 eight have air fuelling capacity from a Hercules C130, according to the Spanish Air Force.
The Spanish air force is replacing its ageing Mirage with Euro-fighter Typhoons.
The Argentine air force currently has an estimated 25 Mirage 5 and Mirage III with over thirty years in service, some of them fought in the South Atlantic conflict with Britain in 1982 when Argentina invaded the Falkland Islands. However according to Argentine sources the aircraft are virtually out of use because of lack of spares and an adequate maintenance.
The F1 is described as a fighter bomber of third generation, designed and constructed by Dassault Aviation and became operational in France at the beginning of the seventies. It was exported to over a dozen countries and including Morocco and Jordan, and over 700 of them have been built.
So far besides the budget confirmation there is no further news, or even when the F-1 will be arriving in Argentina, most probably for the Tandil air base Likewise pilots and technical teams will have to be trained for the incorporations.