US Congress clash over spending bill rattles world markets
Tuesday, October 1st 2013 - 04:24 UTC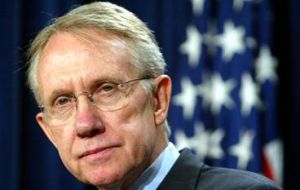 Shares in New York closed lower on Monday as the prospect of a shutdown of some US government activities looks increasingly likely. The Dow Jones closed down 128 points, or 0.84%, while the S&P 500 and Nasdaq fell by 0.60% and 0.27% respectively. However, all three indexes were up for the month, buoyed by a strengthening US economic recovery.
The US needs to agree a new spending bill before the financial year ends at midnight on Tuesday. But political divisions have resulted in a stalemate and there are worries over the economic impact of a shutdown of the US government.
"The shutdown will have a very real economic impact on very real people right away," said US president Barack Obama late on Monday, after it seemed as if negotiations had all but broken down.
If the US government does shut down on 1 October, as many as a third of its 2.1 million employees are expected to stop work - with no guarantee of back pay once the deadlock is resolved.
National parks and Washington's Smithsonian museums would close, pension and veterans' benefit cheques would be delayed, and visa and passport applications would be stymied. Programs deemed essential, such as air traffic control and food inspections, would continue.
Early on Sunday the Republican-run House of Representatives passed an amended version of the Senate spending bill that removed funding for the healthcare law. That bill was roundly rejected by the US Senate as soon as members returned on Monday.

The Democratic-led Senate voted 54-46 against the bill.
"It will be a Republican government shutdown, pure and simple," said Senate Majority Leader Harry Reid, Democrat of Nevada, referring to the Republicans as "bullies". "We are not going to negotiate on this. We have done everything we can to be fair and reasonable."
After the vote, Republican House Speaker John Boehner told reporters his chamber would re-evaluate the proposal, but it remained unclear if Mr Boehner could convince members of his party to change their position in any meaningful way.
Mr Obama echoed Mr Reid's concerns, saying that "one faction of one party in one house of Congress in one branch of government doesn't get to shut down the government".
Earlier on Monday, worries over the US shutdown had hit Asian shares. Japan's Nikkei 225 index closed 2% lower, Hong Kong's Hang Seng was down 1.5%; Australia's ASX fell 1.7%, while South Korea's Kospi shed 0.7%