Francis calls for transparency and says too many popes had been 'narcissists'
Wednesday, October 2nd 2013 - 10:04 UTC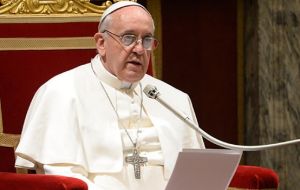 Pope Francis began landmark meetings this week to reform the Vatican, promising to do all he could to change the mentality of an institution he said was too focused on its own interests. Francis and eight cardinals from around the world are holding three days of closed-door meetings to discuss the Vatican's troubled administration and to map out possible changes in the worldwide Church.
As the talks began, left-leaning La Repubblica newspaper published a long interview conducted by its atheist editor last week in which the Argentine pope spoke frankly about the problems facing the Vatican administration, known as the Curia.
He said too many previous popes in the Church's long history had been "narcissists" who let themselves be flattered by "courtier" aides in the Curia instead of concentrating on the wider mission of the universal Church.
"The (papal) court is the leprosy of the papacy," said Francis, who has brought a new style of openness, consultation and simplicity to the Vatican. He has shunned the spacious papal apartment and lives in small quarters in a guest house.
There are some "courtiers" among administrators in today's Curia, he said, adding that its main defect is that it is too inward-looking.
"It looks after the interests of the Vatican, which are still, in large part temporal interests. This Vatican-centric vision neglects the world around it and I will do everything to change it," he said.
Francis said the eight cardinals he had chosen to make up his advisory board did not have selfish motives. "They are not courtiers but wise people who are inspired by my same feelings. This is the start of a Church with an organisation that is not only vertical but also horizontal".
The Vatican also announced that Pope John Paul II, the Polish pontiff who led the Catholic Church for 27 years and witnessed the fall of communism and Pope John XXIII, who called the reforming Second Vatican council, will be declared saints on April 27, Pope Francis announced.
The confirmation of the date for the canonizations had been expected since July when Francis approved a second miracle attributed to John Paul, opening the way to the fastest canonisation in modern times.
He also approved sainthood for John, who reigned from 1958 to 1963 and who oversaw sweeping reforms to modernise the Church, even though he has only been credited with one miracle since his death.