Berlusconi U turn saves Italian coalition but could mark the beginning of his demise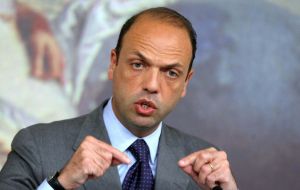 Silvio Berlusconi backed away from his threat to topple Italy's coalition government in a humiliating political climb down on Wednesday that could fatally weaken his 20-year grip on Italian politics. The billionaire former prime minister was forced into the last minute U-turn by a revolt that threatened to shatter his conservative party.
"Italy needs a government that can produce structural and institutional reforms," Berlusconi said during a dramatic debate in the Senate. "We have decided, not without internal strife, to back the confidence vote."
That decision enabled center-left Prime Minister Enrico Letta to win that vote of confidence with a large majority. That means his coalition government, formed with Berlusconi's People of Freedom Party (PdL) and a smaller centrist group, will survive.
Letta's 235-70 votes win brought relief to capitals across Europe and the financial markets, which feared the collapse of Letta's government would plunge the Euro zone's third-largest economy into turmoil as it seeks to claw its way out of a prolonged economic crisis.
"Good news from Rome for Italy and Europe with threat against Letta government averted," tweeted Swedish Foreign Minister Carl Bildt, whose center-right party is a nominal ally of Berlusconi's PdL in the European Parliament.
"It is indeed crucial to avoid an artificial political crisis which can undermine investor confidence in Italy's economic recovery," European Commission President Jose Manuel Barroso said in a statement welcoming the vote. "This is of decisive importance, not only for Italy, but also for the euro zone and the EU as a whole."
Milan's stock exchange rose on the news and the crucial rates Italy must pay on its massive debt declined.
The flip-flop is a clear blow to Berlusconi that has shaken his political authority and undermines his position as puppet-master of the PdL ministers in the government. The 77-year-old looked deflated after making his short speech and held his head in his hands as he was consoled by close allies.
However, his sudden change of heart also means Berlusconi could maintain influence over the government as he fights to prevent his expulsion from the Senate following a conviction for tax fraud. But it will be tough going: the upper house is due to vote on throwing him out Friday and his removal now looks inevitable.
"Many are reading this as really the sunset of Berlusconi," said Marco Incerti, a political specialist at the Center for European Policy Studies, a Brussels-based think tank.
"The fact that he wasn't able to keep his party members and the ministers in line means he no longer has the power, the ability to control them," Incerti said. "It's one step further toward the ejection of Berlusconi, not just from the Senate, but from Italian politics. This may not happen tomorrow, it may not happen in a week's time, but it's getting there."
Berlusconi ordered the PdL's five ministers to resign from the government last week, when it became clear the center-left intends to vote with the opposition to expel him from the Senate.
Amid widespread condemnation that the party was putting the personal interests of its leader ahead of stability of the country, some PdL members began to rebel. Crucially, the party's No. 2, Deputy Prime Minister Angelino Alfano, wavered.
A longtime Berlusconi protégé, Alfano is widely seen as the media magnate's right-hand man and possible successor. An Italian joke has it that the only order he ever resisted was Berlusconi's suggestion the balding Alfano should follow his example by getting a hair transplant.
So when Alfano — a 42-year-old Sicilian lawyer — came out of a late night meeting with Berlusconi on Tuesday saying he would vote in favor of the Letta government, he sent shockwaves through Italian politics.
"Alfano Betrays: part of the PdL goes over to the Left in exchange for a cushy job," said the front page headline in Il Giornale, a daily newspaper that's part of Berlusconi's media empire.
On a day of Shakespearean drama, Alfano was cast as Brutus, putting the wider interest of the state over his loyalty to Berlusconi's Caesar.
Letta forced Wednesday's showdown by responding to Berlusconi's threat by calling a confidence vote in parliament over whether to keep his government in power.
Before the vote, Letta made an impassioned speech warning about instability and appealing for support for reforms that would enable Italy to inject new life into the economy and resume a leadership role in Europe.
"I call for your courage and your confidence, for Italy's sake," Letta told lawmakers. "Seizing this moment or not depends on us, on a yes or a no."
Letta raised his hand in a V-for-victory sign in parliament to the cheers of supporters as he announced a historic turning point in Italian politics.
Still, questions remain over whether his strained coalition will obtain sufficient support from left and right to push through the reforms Italy needs.
Il Cavaliere, as Berlusconi is known, also faces questions. The next few days will be crucial in deciding if he can keep his party together.
The Rome rumor mill is reporting that Alfano and several other PdL lawmakers may still form a breakaway center-right party. Berlusconi himself has announced the re-launch of Forza Italia (Go, Italy) the movement he created as a vehicle for his political ambitions back in the 1990s, but there are doubts over his ability to run it if his legal woes lead to a ban on political office.
Berlusconi has been in tight spots before and has always managed to recover.
He retains a fervently loyal core of supporters within the party and the wider electorate — almost 10 million Italians voted for him in February's national elections despite the scandals surrounding his business affairs and alleged bunga-bunga parties. His financial clout, media influence and ruthless political instinct make it impossible to write him off.