Giant squid washes ashore in the Cantabrian Sea; conservation plans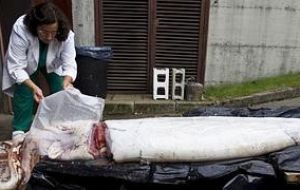 The Cantabrian Maritime Museum (MMC) in the north of Spain has concluded the conditioning for its conservation of a giant squid that was found washed ashore in a beach of Asturias and which was catalogued as an adult female of the cephalopod "Architeuthis Dux" specie weighing 180 kilos and with a total length of eight metres.
"Dimensions which inspire respect, close to a record but still short of other stranded cephalopods washed ashore in other parts of the Cantabrian Sea", said Gerardo Garcia Castillo, head of the museum responsible for the conservation.
"The find however has a great scientific, cultural and museum value; whether we conserve her in a special storage or have her exposed in the museum are some of the options under consideration" said Garcia Castillo who nevertheless added that much depends on the Cantabria regional government and its Culture Councillor.
The MMC already has two other juvenile "Architeuthis" specimen, which lives far from the coast and in very deep waters of the Bay of Biscay in identified fisheries. The adult female found on the beach "presents externally no signs of violent death or pathology" although a complete forensic test is yet to be completed. The specimen is "slightly deteriorated' has lost skin and the eyes popped out, which according to Garcia Castillo is "normal".
The body of the squid is 1.70 metres long plus the 40 centimetres of the head. The non- retractile arms reach out 2.30 metres and the retractile, tentacles, six metres adding up to eight metres. One of them is fragmented.
"A large specimen but not excessive", says Garcia Castillo.