UK and OAS analyze drug situation in the Americas and different approaches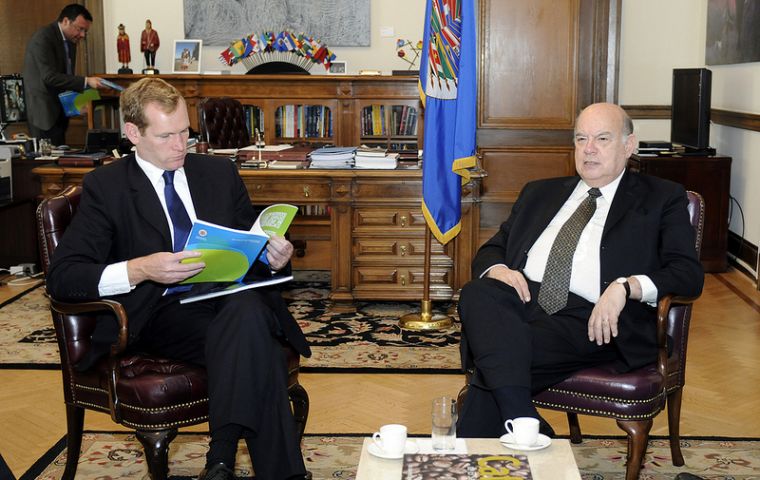 The Secretary General of the Organization of American States (OAS), José Miguel Insulza, met on Thursday with the Minister of State for Crime Prevention of the United Kingdom, Jeremy Browne, with whom he analyzed the drug situation in the region.
Insulza provided Minister of State Browne with a copy of the "Report on the Drug Problem in the Americas" (Analytical Report and Scenarios Report) that the OAS presented last May and which was prepared under his leadership in compliance with a mandate of the 2012 Summit of the Americas.
Insulza said that OAS produced the report with the aim of making it available to the governments of the region, and that the hemispheric institution's report does not propose measures, but rather presents several approaches to the problem for the issue to be discussed.
"The report suggests alternative scenarios to the current drug policy, which has been implemented in the region over the past four decades," the OAS Secretary General added.
He indicated that the report notes that countries with a higher consumption of drugs in the Hemisphere are not suffering the highest levels of violence and intentional homicides, but violence occurs more strongly in drug transit countries, especially in parts of Central America and the Caribbean where the consumption of substances such as cocaine is relatively low compared to other countries in the region.
The head of the OAS also said that in the Hemisphere there is a favourable movement to address the drug problem from the standpoint of public health and that there is consensus regarding the concerns about violence related to drug trafficking and to the activities of criminal gangs involved in this business.
Minister of State Browne is a member of the Inter-Ministerial Group on Drugs in the United Kingdom, which is conducting a study of a national drug policies adopted by different countries, including legal and operational responses, as well as treatment and health related approaches, within each country's social and legal context.
The study is being conducted in fulfillment of the United Kingdom's 2010 Drug Strategy, which commits to review new evidence of alternative approaches taken in other countries to tackle drug use.
The meeting, which was held at the headquarters of the hemispheric institution in Washington, D.C., was attended by the Executive Secretary of the OAS Inter-American Drug Abuse Control Commission (CICAD), Paul Simons; the OAS Director of the Department of Public Safety (DPS), Paulina Duarte; and the OAS Director of the Department of International Relations, Jorge Sanín.