UK offers Paraguay cooperation in transport and infrastructure at embassy ceremony
Friday, October 4th 2013 - 07:05 UTC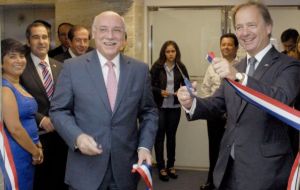 The UK is back in full force in Latinamerica, and particularly in Paraguay, the fastest growing economy in the region, said Foreign Office minister Hugo Swire during the inauguration of the British embassy in Asunción, which had been shut down back in 2005.
"This is an unequivocal signal of the UK new policy of strong links with Latinamerica, and the end of the perception that the UK has been away from the region for too long" said minister Swire, who added that besides Asuncion, the Foreign Office had reopened embassies in Haiti and El Salvador and a consulate in the city of Recife, one of the fastest growing ports of Brazil.
Eight years and four months ago the British government decided to close the Asuncion embassy on budget reasons.
Attending the opening ceremony of the embassy was Paraguayan Foreign minister Eladio Loizaga, Deputy minister Federido Gonzalez and Manuel Maria Caceres and UK Ambassador Jeremy Hobbs among others.
Minister Swire said the UK was wiling to support Paraguay in such areas as integrated transport, urban infrastructure and managing people's movements as was successfully proven during the 2012 London Olympics. However it is up to Paraguay to come up with the list of priorities for a future cooperation.
"We've spoken of many areas with Minister Loizaga, in which the UK could be involved. We share the government's vision that wants to rebuild and modernize the country, that the economy grows sustainedly and that all people can advance in an atmosphere of democracy, equal opportunities and fairness. And this criteria is not new nor is the long relation between UK and Paraguay dating back to well over a century", said Swire.
The minister underlined that "it was an extraordinary moment to return to Paraguay, one of the fastest growing economies in the region and in Latinamerica. Our duty is to further strengthen our diplomatic commitment and to help find new businesses and investment opportunities".
One of the areas of cooperation, and very dear to Paraguayans, could be the restoration of the "Carlos Antonio Lopez" railway. In effect minister Swire and the UK delegation visited the barracks where the original British train from the mid 19ths century is under conservation and "was fascinated" with what he saw and experienced.
The restoration of the train could be part of greater and more ambitious plan to reactivate the railways system in Paraguay to help improve transport and infrastructure since the country has become one of the world's leasing exporters of grains and oilseeds.
Apparently and according to Paraguayan sources, ambassador Hobbs talked about such area of cooperation.