Venezuelan minister invited to Paraguay: Mercosur and bilateral relations in the agenda
Wednesday, October 9th 2013 - 05:46 UTC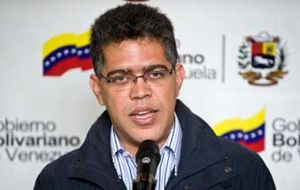 Venezuela Foreign minister Elias Jaua is expected Wednesday in Asuncion, a guest of the Paraguayan government to talk about bilateral relations, Mercosur and to advance in negotiations of common interest, according to sources from the administration of President Horacio Cartes.
"We are making all efforts possible to re-channel bilateral relations with Venezuela", revealed Foreign minister Eladio Loizaga during hearings on his ministry's 2014 budget, before the congressional finance commission.
Formal relations have been interrupted since the previous government of President Federico Franco, which took office 22 June 2012, in the midst of a political crisis that removed Fernando Lugo, following impeachment, from the presidential palace.
However the situation is far from over since Paraguay insists that rule of the law, international law and the Mercosur charter must be complied.
Paraguay was suspended from Mercosur and Unasur in June 2012, because of Lugo's removal, but then Venezuelan foreign minister Nicolas Maduro was caught interfering with Paraguay's internal affairs.
In effect the burly minister, now president was filmed on tape trying to convince the Paraguayan armed forces commanders to disobey Congress and send troops to the streets in support of Lugo.
Likewise following the suspension of Paraguay, Mercosur admitted Venezuela as full member of the group ignoring the fact that decisions in the group regarding new members must be taken by consensus with all participants present.
The administration of President Franco then sent a bill to the Paraguayan congress with the Venezuela membership request, which was overwhelmingly rejected.
Mercosur finally lifted the suspension on Paraguay when President Horacio Cartes was inaugurated on 15 August, but Venezuela was not invited despite the fact it holds the rotating chair of Mercosur until next December.
Foreign minister Loizaga has suggested the Paraguayan congress should take another vote on the Mercosur/Venezuela issue.