Falklands' government plans a memorial bust of Baroness Thatcher
Friday, October 11th 2013 - 13:34 UTC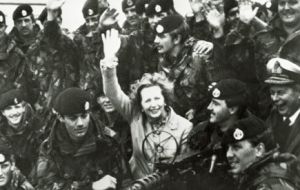 The Falkland Islands Government is in the process of commissioning a sculptor to create a memorial bust of Baroness Thatcher. The project follows a public consultation held in the Falkland Islands as to how best to commemorate the late Margaret Thatcher. The high number of responses received demonstrates the high regard in which she is held in the Falkland Islands.
Following the consultation, the Legislative Assembly agreed to commission a local sculptor to create a bronze bust of Baroness Thatcher, to be mounted on local stone with a plaque containing the following quote:
"They are few in number, but they have the right to live in peace, to choose their own way of life and to determine their own allegiance" -Margaret Thatcher April 3rd 1982
It is intended that the bust be situated on the corner of Thatcher Drive, which runs behind the 1982 Liberation Monument, in front of the Government Secretariat, and past the sheltered housing for pensioners. The close proximity to the Liberation Monument is felt to be particularly appropriate.
The Legislative Assembly has written to the Thatcher family informing them of the proposed project and seeking their approval. MLAs would like to thank the community for their participation in the consultation and for their patience as this sensitive matter has been pursued.