FIFA investigator meets English officials on frustrated 2018 World Cup bid
Friday, October 11th 2013 - 13:03 UTC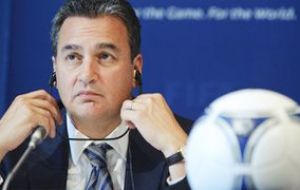 Senior officials from the England team which bid to host the 2018 World Cup are meeting a lawyer appointed by FIFA to investigate allegations of wrong-doping surrounding the voting process.
Michael Garcia has been tasked by football's world governing body to establish whether any rules were broken as Russia and Qatar were respectively awarded the 2018 and 2022 tournaments.
Simon Johnson, who was England 2018's chief operating officer, told reporters on arrival at Mr Garcia's London office that he was happy to help the inquiry.
Michael Garcia, a New York based lawyer, will examine whether any rules were broken by FIFA during the World Cup 2018 and 2022 bidding process.
"I think it's important that FIFA is doing it. I'm looking forward to answering Mr Garcia's questions. Beyond that I can't really comment as I'm expecting these proceedings to remain confidential".
"I'm going to be as helpful as I can be and hopefully that will be of assistance to FIFA"
He is due to visit every country which submitted a bid to host either of the tournaments.
But in a statement issued earlier this week Mr Garcia said he would hand responsibilities for the Russian and US legs of his tour to his deputy, Cornel Borbely, "in order to avoid the appearance of any conflict of interest". (Qatar defeated the United States 14-8 in a final round of voting).
Russia barred Garcia, a former US Attorney, in April because of his previous work prosecuting a Russian arms dealer, Viktor Bout, who is now serving a 25-year prison sentence in the United States.
FIFA president Sepp Blatter refused to comment on Mr Garcia's investigation when asked last week, insisting that it is an independent process.
But Blatter made clear that Qatar, following continued speculation regarding its bid, faced no threat to its right to host the event.
As FIFA ethics investigator, New York based Mr Garcia is examining all potential breaches - not just allegations surrounding World Cup. García will file a final report to the judging division of FIFA ethics court to decide on possible sanctions.
Anonymity can also be offered to some witnesses "in appropriate circumstances," García said.
García's office has been receiving information since February from a whistleblower hotline created by FIFA for officials and fans to allege ethics violations. Russia's bid, which was strongly supported by state president Vladimir Putin, also beat joint candidacies from Spain-Portugal and Belgium-Netherlands in the 2018 contest. Australia, Japan and South Korea were the other 2022 candidates.