Gibraltar Under-19 football team makes history as they compete for European Qualifier
Friday, October 11th 2013 - 12:57 UTC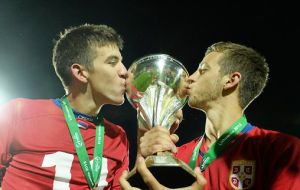 Gibraltar Under-19 national football squad left the Rock en route to be the first team representing Gibraltar in a European Championship Qualifier. The first stop is in Bulgaria, where the Gibraltar players will prepare with a friendly against the Bulgarian national team. From there, they will travel to the Czech Republic to compete at the European Championships.
'History in the making' was the message used by Chief Executive Officer of the GFA, Dennis Besio, on twitter in support of those travelling.
Despite the challenge ahead, the team was in good spirits: "90% of the players out there are professionals," Gibraltar's team captain John 'Jack' Sergeant told the Gibraltar Chronicle.
"It's going to be really tough [but] my message to the team is to go there taking everything we've learnt over the last five months and to give it our best shot."
The match against Bulgaria will be played on Friday before travelling to Ostrava for Gibraltar's first ever qualifying match against Croatia on October 17.
The squad of 26 including players and coaching staff are in Group 1 amongst host team Czech Republic, Croatia and Cyprus, a tough group for any national side looking to progress.
With a full squad of players to select they will become the first GFA national team to compete in UEFA Qualifiers since being accepted as the 54th nation on at The XXXVII Ordinary UEFA Congress.