Chilean presidential election is between "Michelle Bachelet and I" says Evelyn Matthei
Sunday, October 13th 2013 - 11:51 UTC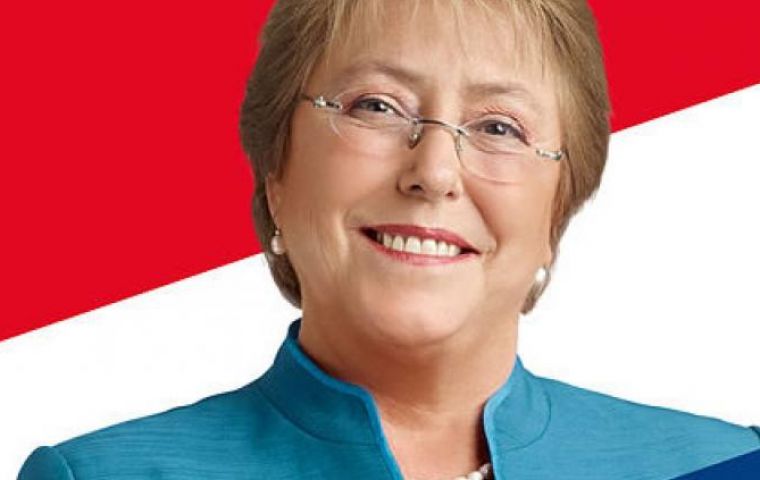 Chilean presidential candidate for the ruling party Evelyn Matthei was the target of her competitors' criticism during a televised debate in which she brushed aside hopefuls' aspirations arguing that it was obvious that the race was between her and Michelle Bachelet, who did not participate.
The debate caused a storm in Chilean politics, with Matthei crossing accusations with independent candidate Franco Parisi and Bachelet saying that "debates are for presenting serious proposals and not just any proposal."
Matthei is in second place ahead of the November 17 election, with former president Bachelet holding a comfortable lead.
Apart from Bachelet's absence, all of the other candidates to the Presidency participated in the debate organized by the National Press Association: Matthei (representing the ruling Alianza), Parisi, Marco Enríquez Ominami (Progressive Party), Marcel Claude (Humanist Party), Ricardo Israel (Regional Independent Party), Roxana Mirada (Equality Party), Alfredo Sfeir (Green Party) and Tomás Jocelyn-Holt (running independently).
After the debate, journalist Mónica Rincón asked Matthei what she thought about the fact that Parisi had directly attacked her in five instances.
"Poor guy, he wants to appear on camera, I am not going to answer him," Matthei said, and added that Parisi's candidacy doesn't represent a threat to her presidential aspirations.
"It is obvious that two out of the three women running are the main candidates. It is obvious and it's in every poll: it is Michelle Bachelet and I," Matthei said.
"In fact, the desperate attacks last night show that the ones running behind attack desperately (...) When the debate was confirmed, I said that it would be a situation of seven against one, it was obvious," she said.
Parisi, who readers of Chilean daily La Tercera voted as the winner, was the first to criticize Matthei's proposal of strengthening tourism in extreme areas. He reminded viewers that several months ago the Aysén region was rocked by protests.
"Aysén had black flags, are we going to fix that with tourism?," he asked. He also said that he doesn't believe Matthei when she says she is going to raise the minimum wage because she was President Sebastián Piñera's Labour minister until recently and "rejected the initiative."
Enríquez Ominami accused Matthei of trying to scare voters by saying that some of her rivals' proposals could affect the country's growth. "I want to defend peoples' rights and, for that, we have the money," he said.
Asked about the debate, Bachelet criticized participants and said that "proposals have to be made responsibly in the sense that if one gets to the presidency one has to fulfil the promises made."
Although Chile has grown steadily during Piñera's term-in-office, he is not popular among Chileans. Student protests demanding free and quality education have complicated his administration, which is perceived as not having done enough to increase funding.
Bachelet has said she will make free education one of her priorities. She has former student leader Camila Vallejo among her candidates for Congress.