"Chinese Taipei" represented at ICAO for the first time in four decades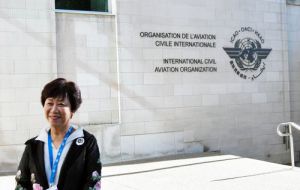 Taiwan was represented at an International Civil Aviation Organization (ICAO) Assembly for the first time in over four decades when a Taiwanese delegation was present at the opening session of this year's meeting in Montreal last month.
The delegation, led by Taiwan's Civil Aeronautics Administration Director-General Jean Shen, was invited to take part as special guests of ICAO Council President Roberto Kobeh Gonzalez, under the designation "Chinese Taipei".
During the meeting, Shen had the chance to meet and chat with the representatives of other ICAO members, including Xia Xinghua, deputy director of the Civil Aviation Administration of China, who is heading the Chinese delegation.
Journalists from Taiwan, who were barred from the ICAO Assembly in the past, were also being permitted to cover this year's event, which concluded last week.
The last time Taiwan attended an ICAO General Assembly was in June and July 1971 when it participated under the name "Republic of China," just months before it lost its seat at the U.N. to Beijing.
Taiwan has been unable to rejoin the world body since then because of China's interference, but has sought to participate meaningfully in U.N. specialized agencies in recent years.
Thanks to warming ties across the Taiwan Strait since President Ma Ying-jeou first took office in 2008, Taiwan has been able to attend the World Health Assembly, the decision-making arm of the World Health Organization (WHO), as an observer since May 2009.
The ICAO is a specialized agency of the United Nations that is responsible for setting standards and regulations necessary for aviation safety, security, efficiency and regularity, as well as for aviation environmental protection
During the conference ICAO Council President Gonzalez revealed that he decided to invite Taiwan to the 38th ICAO Assembly in Montreal because of the China's suggestion.
Taiwan Foreign Minister David Lin said that attending the assembly as Chinese Taipei is the result of a compromise, but that the Taiwanese government did not accept any deals from mainland China in exchange for attending the assembly.
Gonzalez and the ICAO Secretary General Raymond Benjamin told Taiwanese media that the organization decided to invite Taiwan as a special guest to the assembly after the mainland Chinese government made the suggestion. ICAO decision to invite Taiwan to the assembly as a special guest was based on discussions with many countries.
The official said that Taiwan's attendance at the ICAO assembly represents the peaceful development of Taiwan-China relations.
The ICAO Assembly is the organization's sovereign body. It meets at least once every three years to review the ICAO work program in technical, economic, legal and technical cooperation fields. Taiwan was a founding member of the ICAO.