Paraguay's economy roaring ahead is estimated to expand 13.6% this year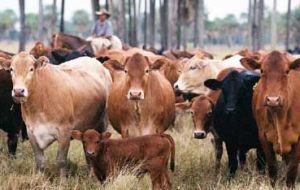 Paraguay's central bank increased the country's growth estimate for 2013 from 13% to 13.6%, the highest for Latinamerica. Estimates have been on the increase since October last year, 9.5%; December, 10.5%; April 13% and now, 13.6% which compares to the 0.9% contraction of 2012, when drought and Foot and Mouth Disease hit Paraguay's main export items, soybeans and beef.
In recent years the only similar episode was in 2010 when GDP soared 13.1%. In the four years from 2004 to 2008 the average growth was 4.5%, with a 4% retraction in 2009, followed by 13.1% in 2010 and 4.3% in 2011.
According to the bank the boost is supported by agriculture recovery, expansion of livestock and meat industry, plus construction both public and private. Revised data shows primary production in 2013 will jump 36.1%, followed by 9.4% in the secondary and tax revenue sectors and 9.2% in other services.
In the primary sector the 2012/12 crops of soybeans, corn and manioc have been essential for the performance while cattle breeding has come back strongly including the recovery of beef export markets, such as Chile, banned because of the FMD outbreak