UK sets out its Arctic policy with "legitimate interests in the region" and priorities
Thursday, October 17th 2013 - 19:49 UTC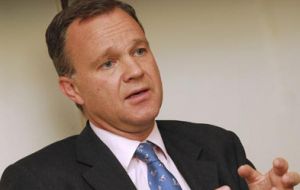 The United Kingdom government set out its approach and policy on the Arctic in a paper released on Thursday and titled: Arctic Policy Framework - Adapting To Change: UK policy towards the Arctic.
The document sets out how the UK will continue to support and respect the sovereign rights of the Arctic States; the peoples who live and work in the Arctic; and the unique and fragile natural environment. At the same time it outlines the UK's legitimate interests in the region, our priorities for practical action and our willingness to show leadership in appropriate areas.
Foreign Office Minister Mark Simmonds said that "the Arctic is one of the most dynamic and influential regions of the world, despite its remoteness from large population centres and its often challenging geographical and climatic conditions. It is on the frontier of global climate change impacts"
He added that the paper "Adapting To Change: UK policy towards the Arctic" sets out for the first time the detail of the UK's interests in the Arctic "how we will work with Arctic States and the wider international community, and what expertise the UK can offer to help meet some of the long-term challenges facing the region."
Likewise Science and Universities Minister David Willetts pointed out that "understanding what is driving the rapid changes affecting the Arctic environment is an urgent scientific challenge; the impact of these changes are of global significance".
"As set out in this new framework, the UK will promote greater understanding of the Arctic through international scientific collaboration and will promote policy development on the basis of sound evidence. Co-operation, respect and appropriate leadership will be central to the UK's approach when working with the Arctic states."
The publication of 'Adapting To Change: UK policy towards the Arctic' follows the UK government's response to the Environmental Audit Committee's report into Protecting the Arctic, which was published in January 2013.
Countries with an interest in the Arctic have come together in the Arctic Council which is a high level intergovernmental forum that addresses issues faced by the member countries and the indigenous people of the Arctic.
It has eight member countries: Canada, Denmark, Finland, Iceland, Norway, Russia, Sweden, and the United States. Six international organisations representing Arctic Indigenous Peoples have permanent participant status. The first step towards the formation of the Council occurred in 1991 when the eight Arctic countries signed the Arctic Environmental Protection Strategy (AEPS).
The 1996 Ottawa Declaration established the Arctic Council as forum for promoting cooperation, coordination, and interaction among the Arctic States, with the involvement of the Arctic Indigenous communities and other Arctic inhabitants on issues such as sustainable development and environmental protection.