US Supreme Court raises doubts about corporation responsibility during Argentina's 'dirty war'
Thursday, October 17th 2013 - 05:34 UTC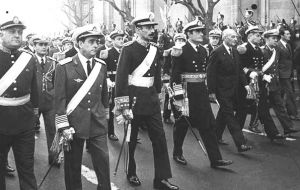 A majority of US Supreme Court justices raised doubts this week over whether Germany's Daimler-Chrysler can be sued in federal court for allegations that a subsidiary violated the human rights of workers at a plant in Argentina during the last military dictatorship that was in power from 1976-1983.
The high court listened somewhat sceptically to arguments that it should uphold a lower court decision that would allow Argentina Dirty War survivors to seek reparations for alleged crimes of a foreign company in US courts.
Several justices on both sides of the court's ideological divide voiced concerns about how the San Francisco-based Ninth US Circuit Court of Appeals handled the case when it ruled in favour of human rights plaintiffs, raising the possibility of the case ultimately being sent back to that court for further review.
Several justices seemed to think that allowing this case to move forward would open US courts to lawsuits from around the world that may not have anything to do with issues they think belong in a US court.
"So if a Mercedes-Benz vehicle rolled over in Poland and injured the Polish driver and passenger, lawsuit for the design defect could be brought forward in California?" asked Justice Ruth Bader Ginsburg. Kevin Russell, lawyer for victims from Argentina, said that based on their interpretation of the law, the answer would be yes.
"It doesn't lead to good results when you assume something that is obviously in error," Justice Elena Kagan responded.
The argument pushed by the plaintiffs focused on complex legal questions about when US federal courts have jurisdiction over certain types of cases.
Relatives of workers at an Argentina-based plant operated by Mercedes-Benz, a wholly owned subsidiary of Daimler claimed the company had punished plant workers viewed by managers as union agitators and that it had worked with the Argentine military and police forces.
The company, however, has argued that since it is a German corporation, it should not be sued in a state court by foreign nationals for actions a subsidiary allegedly took in a foreign country.
At the end of the day the Daimler case concerns whether a US court has the authority to hear a case against a foreign corporation "solely on the fact that an indirect corporate subsidiary performs services on behalf of the defendant" in the state where the lawsuit was filed, which in this instance was California.