In show of Latam unity Chile is elected to the UN Security Council
Saturday, October 19th 2013 - 17:53 UTC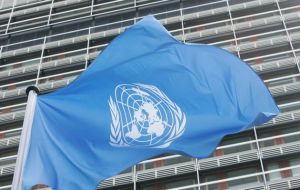 The United Nations General Assembly elected this week Chad, Chile, Lithuania, Nigeria and Saudi Arabia to serve as non-permanent members on the Security Council for two-year terms beginning on 1 January 2014. The five countries obtained the required two-thirds majority of those Member States present and voting in the 193-member Assembly.
Elected in one round of secret balloting, they will replace Azerbaijan, Guatemala, Morocco, Pakistan and Togo, whose terms will conclude at the end of this year.
The five permanent Council members, which each wield the power of veto, are China, France, Russia, the United Kingdom and the United States. Non-permanent members Argentina, Australia, Luxembourg, the Republic of Korea and Rwanda will remain on the Council until the end of 2014.
However while the voting process was non contentious in the General Assembly it sparked immediate controversy from human rights associations and Saudi Arabia surprised by rejecting to take the rotating seat in protest over what it described as the Security Council's "double standards" that it says hampers the world body's ability to end conflicts such as the Syrian civil war.
Likewise Philippe Bolopion, director of U.N. Human Rights Watch, condemned the membership of Chad, Saudi Arabia and Nigeria. "Chad should put an end to the recruitment of child soldiers, which earned it a spot on the U.N. list of shame," he told the media "Saudi Arabia should end its crackdown on human rights activists and grant women their full rights."
He also criticized Nigeria's membership, saying the country should "end chronic abuse by security forces and better protect civilians in the north" from terrorists.
Chile's election went unscathed and was evidence of Latin America and Caribbean Region (GRULAC) unity since it was publicly known as far back as April 2013, after the officially confirmed support of all member nations, including Peru and Bolivia, with whom Chile has long standing diplomatic disputes.
However, Peru Foreign Minister Rafael Roncagliolo stated that his country's support of Chile was the result of a long existing pact between Latin American nations brought upon by Venezuela and Guatemala's controversial bid in 2006.
"In 2006 there were countless rounds of tied votes to choose the Latin American member for the Security Council" he told press last May. "We gave an awful example. After that date a procedure was agreed for which Latin American countries were going to alternate in a certain order so as not to repeat that spectacle: the order is Chile, Venezuela, Uruguay, Bolivia and Peru. This is not a decision that has been made on the spot but it is a commitment from a while ago, one to which we will stick."
A total of 47 rounds of unsuccessful voting rounds occurred in 2006 over candidates Guatemala — a staunch U.S. ally — and Venezuela, who under the presidency of Hugo Chávez, mounted a significant international campaign for its bid, which it portrayed as an alternative to U.S. hegemony. The vote ended in both candidates pulling out of the bid and the election of Panama as a compromise candidate.
Out of the 191 member countries that participated in the vote for the Latin American and Caribbean region, for which Chile was the sole candidate, 186 countries voted in favor and five countries abstained, providing the two-thirds majority on the first round, removing the need for any further rounds.
Nigeria, like Chile, has served four terms before in the Security Council, making these two countries the only candidates with past experience on the council.(UN & Santiago Times)