Brazil's development bank to target infrastructure and less on corporations
Monday, October 21st 2013 - 07:39 UTC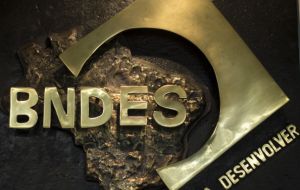 Brazil will inject less money next year into the country's development bank BNDES, (National economic and social development bank), its leading source of long-term corporate loans, to focus more on infrastructure financing as concerns mount over public debt.
The National Treasury has a target of phasing out annual capital injections into BNDES "within a few years," Finance Minister Guido Mantega said.
In addition, both the Treasury and BNDES will put the brakes on lending to states, which might have to tap private-sector and state-run commercial lenders other than BNDES for new financing, he said.
The decision comes after years of criticism of President Dilma Rousseff's efforts to use BNDES to speed up growth in Latin America's largest economy. The Treasury has funneled more than 300 billion Reais (138 billion dollars) of taxpayer money into BNDES, a situation that some analysts have said stoked a rapid increase in government debt.
Earlier in October, Moody's Investors Service lowered the outlook on Brazil's Baa2 sovereign debt rating to "stable" from "positive," citing the impact of years of low growth, flagging investment and swelling debt. Moody's and peers have stressed that government debt trends are deteriorating: Brazil's gross debt equals almost 60% of GDP, compared with median ratios of 45% for Baa2-rated countries.
"The tendency is that the BNDES will be next year with a focus on activities that the private sector has more difficulty to fund, like infrastructure and heavy industry investments. That is why we are reviewing the policy of helping fund the BNDES," Mantega said at a news conference.
Mantega played down concerns over recent growth seen in gross debt, saying the most widely watched gauge of government indebtedness is net debt. Gross debt includes all liabilities, while net debt subtracts highly liquid assets like the country's international reserves from outstanding debt.
BNDES, which is fully controlled by Brazil's federal government, has been ordered by Rousseff to boost credit access for companies while aggressively reducing borrowing costs. At the same time, BNDES increased dividend payouts to the government, which has in turn replenished their capital with Treasury debt instead of cash.