Lazard renegotiates Pescanova's 2bn Euro debt: pretends 75% relief
Monday, October 21st 2013 - 05:43 UTC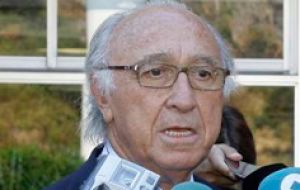 The new chairperson of the Galician multinational firm Pescanova, Juan Manuel Urgoiti, authorized the investment bank Lazard to implement an urgent debt refinancing process with the creditor entities.
This bank, chaired in Spain by Jaime Castellanos, expects to close an agreement before the end of 2013 that makes it possible for the fishing firm to survive.
The latest report issued by Deloitte in September indicates that Pescanova's liabilities rose to 3,674 million Euros compared to assets for 2,007 million Euros. This implies an 'equity gap' of 1,667 million Euros, reported El Confidencial.
Meanwhile, banks Sabadell, Popular, Novagalicia, La Caixa, Bankia, Santander and BBVA were reluctant to accept the initial approach proposed by the Galician multinational firm, which consists in a debt relief of 75%. These banks are willing to accept a discount from their positions that does not exceed 50%.
It is estimated that the refinancing program will be addressed after the presentation of the viability plan being prepared by the auditing firm PricewaterhouseCoopers (PwC).
On the other hand, Pescanova chose Freshfields as legal counsel throughout the negotiation process of the creditors' agreement, the newspaper La Voz de Galicia informed.
Meanwhile, as part of the hearings before the National Court of several of the accused parties in the Pescanova case, the fishing company former counselor, Alfonso Paz Andrade, defended his distant position from the former firm chairman, Manuel Fernández de Sousa and from his management during the last five years.
Furthermore, he expressed having been "harmed" and "surprised" by Pescanova's actual situation.
The executive has been charged with alleged falsification of financial-economic information, annual accounting fraud, use of relevant information, fraud and a continuing offense of falsifying commercial documents.(FIS).-