Falklands representatives talk fishery stock assessment in Rhode Island
Tuesday, October 22nd 2013 - 14:28 UTC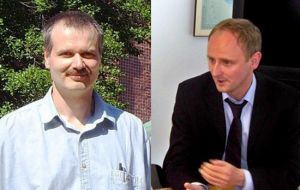 The Falkland Islands fisheries sector was invited to Rhode Island, USA earlier this month in order to present the Islands' success story of data-sharing between the industry and the local fisheries department.
Andreas Winter from the Falkland Islands Fisheries Department and Michael Poole, representing the Falkland Islands Fishing Companies Association, attended and gave a presentation, talking in particular about the in-season assessment and management of the Loligo squid stock.
Mr Poole told Penguin News that representatives from Norway and Canada were also invited to present on data-sharing cooperation initiatives in their countries.
Mr Poole said: "The Falklands presentation was well received and, along with Norway and Canada, demonstrated how industry and fisheries scientists can work together cooperatively to ensure a sustainable and well-managed fishery."
He said attendees were particularly impressed with the way in which Falkland Island companies get actively involved in stock assessment initiatives as well as environmental issues such as seabird mitigation measures and ensuring gear minimizes by-catch.
Fishing on the east coast of the US still involves tens of thousands of boats and people and is different to the Islands in that many smaller family-owned companies operate in their exclusive zone.
However, despite this, the Falkland Islands representatives were able to share practical information regarding how data is collected, communicated and analyzed in the Islands.
The Commercial Fisheries Research Foundation (CFRF), which hosted and funded the event, is planning on using the information obtained from the three international presentations to, "further develop and improve cooperative research and data-sharing in the US fisheries sector" said Mr Poole.
"They will do this in conjunction with the US federal and state governments as well as non-governmental organizations and fisheries associations."
Mr Winter and Mr Poole said they also learned a lot from attending and will be discussing with their respective groups how useful initiatives from elsewhere in the world may be applied here in the Islands.
They would like to thank CFRF, FIFCA and the Fisheries Department for their support. (Penguin News).-