Malvinas: Argentina invites Chagos group to expose contradictions in UK's decolonization policy
Tuesday, October 22nd 2013 - 05:45 UTC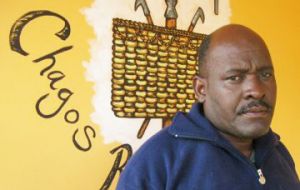 Argentina's Foreign minister Hector Timerman will receive on Tuesday Olivier Bancoult, president of the Chagos Refugees Group, the entity which represents the 'Chagossians' forcibly ousted from their lands by the United Kingdom. The administration of President Cristina Fernandez pretends to expose contradictions in the UK's approach to the Chagos case and the Falklands sovereignty dispute.
In the afternoon Bancould is scheduled to give a press conference on the political and legal aspects of the Chagos archipelago and its most notorious island, Diego Garcia, from which its inhabitants were removed by Britain in the seventies.
The archipelago made up of an estimated 65 islands in the Indian Ocean has been a British colony since 1814. Since independence in 1968 identified as British Indian Ocean Territory, Mauritius Island claims sovereignty over the islands.
However between 1968 and 1973 the British government removed the 1.200 inhabitants relocating them in Mauritius and Seychelles islands as part of a major agreement for the establishment of a US air and naval base in the strategic island of Diego Garcia. Since then the inhabitants, Chagossians, have been claiming to return to their ancestral land, but to no avail.
According to the Argentine foreign ministry the Chagos archipelago is another example of a still uncompleted decolonization process as happens with the Malvinas Islands question in which the colonial power is the UK, while Argentina and Mauritius invoke and demand the principle of territorial integrity.
"Once again the UK displays its disdain for international law and double standards regarding the right to self determination of peoples, since it ignores the right of Chagossians to return to their lands and on the other hand pretends to force the right to self determination for the Malvinas question, even when the United Nations do not consider such option applicable", according to the Argentine release.