Punta Arenas expects 23% increase in calls this 2013/14 cruise season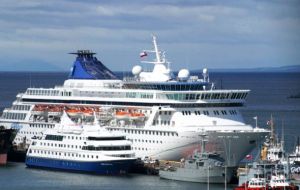 Punta Arenas in the extreme south of Chile is expecting over a hundred international calls this coming 2013/14 cruise season, which could reach over 150 including Puerto Natales and the domestic cruise lines, according to local authorities.
A month ahead of the season Punta Arenas maritime agents, port and local authorities held a round of talks to coordinate efforts. In the previous season over 60.000 visitors landed in the city with over eighty international and local vessels calls.
"It's also positive to meet with all institutions related to the cruise industry ahead of the season and prepare for such an event which this year will see an increase of 23% in the number of vessel calls and probably 150 calls if we include local cruise companies", said Leonardo Castex from Inchcape Shipping Services.
"I think it is very important to contact in advance migration officers and port authorities to agree on facilities for the visitors", he added.
Castex revealed that for the coming season Chilean migration has mounted a system so that visitors and crew members can report their documents to Migration in Santiago de Chile, 24 hours in advance, and will thus have no inconvenience is coming ashore. Before without visas many visitors and crew members weren't allowed to leave the vessel.
The head of Investigations Department from the local police said that this kind of meetings are held every year with operators and tourism agencies linked to the cruise industry to analyze and compare with previous seasons.
"Complications of previous years have been addressed and currently we are working to be more efficient and speedier so that tourists don't lose time with paperwork and can visit the city and region" said Inspector Jorge Escobar Gonzalez.
"Cruise companies have the forms for landing in Chile, which are distributed among passengers before reaching the port. We then collect the forms and documentation and thus begin the administrative process from the vessel itself which obviously saves on time" added Escobar Gonzalez.