BP to supply the bulk of Argentina's natural gas demand in 2014 and 2015
Wednesday, October 23rd 2013 - 20:55 UTC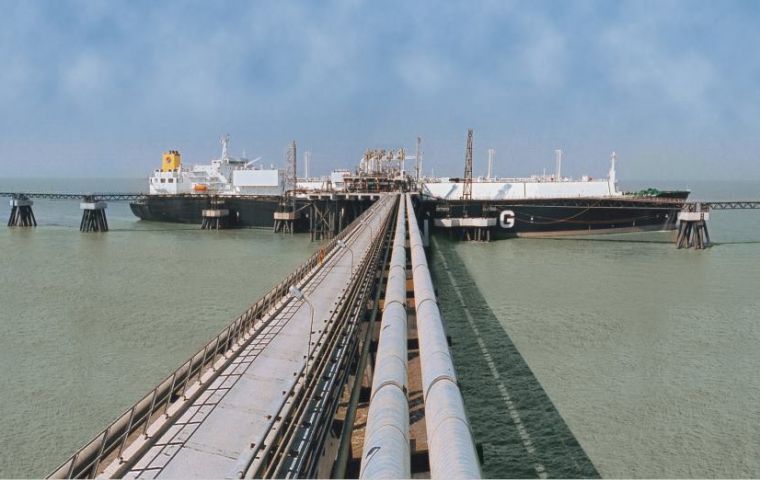 Argentina's state-run energy firm YPF has picked BP to supply the bulk of its liquefied natural gas (LNG) needs in 2014 and 2015 following a major recent tender, according to media sources in Buenos Aires. Energy short Argentina last month launched its annual tender to secure approximately 5.57 million tons of LNG over the 2014-2015 period to help cover its energy needs.
Allegedly BP is to supply around 40 of the 48 cargoes sought by YPF for delivery into the Bahia Blanca import terminal, the source said. Gazprom Marketing & Trading is set to bring in a further five cargoes and Norway's Statoil will deliver the final three.
Argentina is expected to pay around 15 dollars per million British thermal units (mmBtu) for deliveries in 2014, and a premium of around 10 dollars per mmBtu above the US Henry Hub gas price for deliveries the following year, a source said.
Recently nationalized YPF also picked Spain's Gas Natural Fenosa (GNF) to deliver around 2.7 million tons of LNG into Argentina's other terminal at Escobar on the Parana River.
The award was given despite an Argentine judge's ruling last week that banned GNF from participating in the tender due to a potential conflict of interest. It remains to be seen whether subsequent court actions could overturn the award to GNF, traders said.
The reason for the ruling given was that GNF's major shareholder, Repsol, also holds a stake in YPF, the tender manager. YPF, which has appealed the ruling, went ahead and awarded GNF the contract earlier this week.
CEO Miguel Galuccio said on Wednesday:"We are going to keep going. If the justice system says no, we'll stop."
GNF was widely tipped to win the Escobar part of the tender after YPF's revised terms of participation this year appeared to clear the way for the Spanish company, traders said.
Those terms include YPF's decision to seek a single supplier for Escobar - last year Vitol supplied around a third of Escobar's requirement, with GNF delivering the rest- as well as a marked shift in how the LNG will be priced.
Last year the pricing mechanism for Escobar deliveries was based on U.S. Henry Hub gas prices, but this year YPF proposed a link to Brent crude oil instead, which GNF prefers, according to traders.
In spite of the preferential terms, GNF is one of few global LNG suppliers that has the small ships needed to supply the river terminal, which is unable to receive standard tankers due to water depth restrictions. As a result of that, one trader pointed out that GNF is best placed to supply Escobar at the lowest cost.
Given the shallow waters, only half-full standard sized tankers can unload at the terminal, which increases the shipping cost and lifts the overall price of LNG, energy analysts at Waterborne added in a recent report.
Fuel imports have been growing in Argentina due to a persistent fall in local production and an increase in demand, especially for gas. Argentina's fuel imports rose 31.9% in August 2013 from the same month last year. Led by liquid natural gas purchases, imports totaled 942 million dollars, according to the Argentine government.